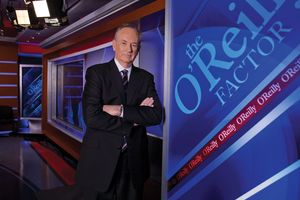 In a wide-ranging interview with MultiChannel News' Mike Reynolds, Fox News host Bill O'Reilly accused MSNBC of not dealing in facts, compared himself to Howard Cosell, and explained how he single-handedly saved Inside Edition.
O'Reilly's biggest shot in the interview landed on MSNBC, a network he referred to as having a, "very strong leftwing, partisan" approach. "Which is fine," he added, "they can do what they want." He pointed out that they don't have a Shepard Smith or Bret Baier-led newsprogram, and rely on NBC for their hard news analyst roles. O'Reilly also noted that while CNN — FNC's other main competitor — does a better job with the facts, they focus on stories that don't pull at the hearts of average viewers.
"CNN is heavy on storms and Syria and rebellion and you know, basically, the traditional stuff," O'Reilly explained. "But Fox News is much more interested in how the news affects the folks. So that they'll get into the fabric of a teenager who wants to mention God in a valedictorian address, and there's a big controversy over it. We'll cover that whereas the others won't."
Later in the interview, O'Reilly tells Reynolds about the time he saved Inside Edition, which was "going down the drain" in its first month of air:
"They fired David Frost three weeks after he took over and they looked at me and they said, 'We're going to lose $50 million dollars; can you turn it around?' And I said, 'Maybe. You know, it depends on how much money you're going to sink into it and how much latitude you're going give me." And I said, 'I'll take it over, but I have to write everything, including the promos, and get out of my way.' And we turned that around; and that show is still on the air."
Turning to politics, O'Reilly said that he wasn't sure if President Obama would get re-elected, believing that his fortunes are tied to how Americans feel on Election Day. "If the voter in November feels insecure, then Obama will lose. It really doesn't matter who runs against him," he tells Reynolds. "But if things get better and there's optimism in the air, then the President could very well win because he's a very, very good campaigner. And Americans still like him personally."
As for his opponent? "If I had to put money on it," O'Reilly says, "I would say it would be Romney."
Read the entire interview here, at MultiChannel News.
Have a tip we should know? tips@mediaite.com