Bizarre New Syria Tactic Emerges in Senate: Assad Signs Chemical Weapons Ban or Else…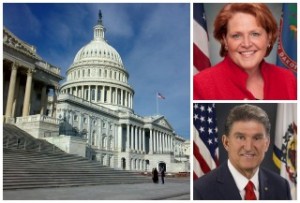 Many people opposed to military strikes in Syria understand the importance and seriousness of the situation unfolding between the Assad government and rebel forces (with a few exceptions). But two Democratic senators opposed to strikes are trying a tactic that possibly no one thought of before this point: give Assad 45 days to sign the Chemical Weapons Convention… or else.
Okay, that's not exactly it. This alternate resolution, being pushed by Senators Heidi Heitkamp and Joe Manchin, has not been finalized yet, but here's a draft of what they're going for, obtained by POLITICO:
"The failure by the government of Bashar al-Assad to sign and comply with the [Chemical Weapons] Convention clearly demonstrates a disregard of international norms on the use of chemical weapons," reads a draft of the resolution obtained by POLITICO. "If the Government of Syria does not sign the Convention within 45 after the date of the enactment of this resolution, all elements of national power will be considered by the United States government."
Now, there is still some doubt being cast on whether Assad used chemical weapons, but with the safe assumption that it was the government that used them against the rebels, and with this being what Manchin and Heitkamp are going by, you would think that the use of chemical weapons in the first place would have demonstrated a "disregard of international norms on the use of chemical weapons."
This is an odd tactic for a number of reasons. President Obama set a "red line" on chemical weapons. You can't set another red line on a chemical weapons ban on top of that. Either stand up and say you oppose military intervention and the risks that could come with it, or get behind the president, but don't say to a brutal dictator, "Okay, mister, you have one more chance to do the right thing."
Because if Assad signs it, that doesn't change the fact that he used them in the first place, and now that President Obama already said he wants to strike Syria because they used them, it's a bit late for that. And if he doesn't sign it, we're basically in the same situation we are now, only Syria has now defied warnings from the United States twice. There is no clear understanding yet of what exactly the proposed resolution means by "all elements of national power," but the drafted resolution appears to emphasize diplomacy first.
At the end of the day, though, this resolution is really a delay tactic. Here's more about it as detailed by The Washington Post:
Sens. Joe Manchin III (D-W.Va.) and Heidi Heitkamp (D-N.D.) are working on the alternative proposal, which would delay the immediate use of military force and compel the Obama administration to build more international and American political support for striking the Assad government, according to Senate aides familiar with the talks.
In other words, the 45 days being given to Assad is also being given to Obama in order to shore up more support for whatever he ends up doing. Because if at first you don't succeed, give yourself a second chance to succeed and see what happens then.
— —
Follow Josh Feldman on Twitter: @feldmaniac
Have a tip we should know? tips@mediaite.com
Josh Feldman - Senior Editor