Black Journo Group: CNN Pulled Backing After We Criticized Them on Diversity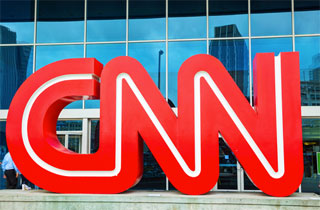 Last week, the National Association of Black Journalists expressed their concerns with, in all the big CNN layoffs, "the departure of so many African Americans." NABJ President Bob Butler called that a "worrisome" development for CNN, diversity-wise. Well, at their Board of Directors Meeting today, Butler said that CNN had pulled its support of their group.
According to a press release from NABJ, CNN contacted Butler after his comments last week and "informed him the association's request for support was denied." Butler said he's "severely disappointed" that CNN ended their partnership for the 2015 Convention & Career Fair.
However, a CNN spokesperson emailed POLITICO to say the reaction was premature:
"Following NABJ's recent comments about CNN, we informed them we were reconsidering our relationship, but we were clear that we had not made a final decision. It's surprising to us that they would choose to make such a statement."
The NABJ has previously criticized CNN on the diversity issue, as well as other networks and news outlets.
Update- Oct. 18, 11:21 am: Congresswoman Marcia Fudge, the head of the Congressional Black Caucus, put out a statement reacting to the news. Here's her statement in full:
News that Time Warner Cable recently began large scale staff reductions is troubling. Particularly concerning are reports that these layoffs have significantly reduced the number of African Americans in senior and executive roles in the company's flagship news organization, CNN.

In a nation growing increasingly more diverse, it is imperative that the organizations tasked with keeping us informed reflect the same diversity. Ethnic sensitivity both on-camera and behind it demonstrates a corporate understanding of the benefits of diversity, and a genuine respect for the audiences' needs.

Any staffing changes that disproportionately cut the number of African Americans at CNN – intentionally or otherwise – are an affront to the African American journalism community and to the African American community as a whole. It is my sincere hope that these reports are not true, and that Time Warner works to ensure that the diversity of its viewers across the country, and the world, is reflected and protected in all areas of its organization.
[h/t TheWrap]
[image via photo.ua/Shutterstock]
— —
Follow Josh Feldman on Twitter: @feldmaniac
Have a tip we should know? tips@mediaite.com
Josh Feldman - Senior Editor