Blago's Attorney Is Willing To Go To Jail For Contempt After Judge Sends Jury Home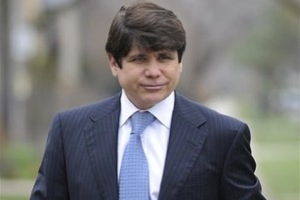 One of the saddest indirect consequences of the Shirley Sherrod story—after the obvious direct ones— has been the fact that it has completely eclipsed what could have been one of the summer's most fascinating spectacles: the Rod Blagojevich trial. In today's chapter of the ongoing dramady, Judge James Zagel sent the jury home after objecting to the defense's attempt to attack prosecutors for not calling certain witnesses to the stand.
According to reports, defense attorney Sam Adam, Jr. had planned to challenge prosecutors on not calling to the stand potential witnesses like notorious Chicago fundraisers Tony Rezko and Stuart Levine, both which were discussed to some degree in the FBI tapes. The judge prevented this based on the fact that the defense did not call them up, either, rendering the argument moot. "The fact that somebody didn't call somebody is not evidence," Zagel told Adam, according to CBS.
In response to Zagel shutting down his closing statements and giving him until tomorrow morning to come up with new statements, Adam responded that he was willing to go to jail for contempt of court in order to deliver his original address. According to the Chicago Tribune, he told Zagel, "I'm willing to go to jail for this, your honor… I cannot follow your order on this." He then dramatically shook Blagojevich's hand and exited. It is still unclear whether he will return tomorrow, as he told reporters outside, "I shook his hand because it has been a pleasure working for him. He's the best client I've ever had, is an innocent man. I just want to do the best I can for him."
Here's Shepard Smith's take on the story on Fox News this evening:

Have a tip we should know? tips@mediaite.com