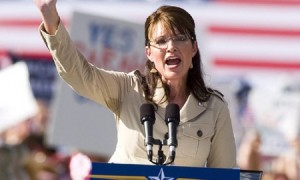 Earlier today Sarah Palin released a video message where she claimed journalists and pundits had manufactured a "blood libel" by trying to assign blame for the senseless Arizona shooting. The use of the term "blood libel" already has one politician questioning Palin's intelligence, but now since the term allegedly has an anti-semitic history, Jewish leaders are weighing in on whether anyone has a right to be outraged.
Famed Jewish attorney and commentator Alan Dershowitz did not hesitate to defend Palin to Big Governemt:
There is nothing improper and certainly nothing anti-Semitic in Sarah Palin using the term to characterize what she reasonably believes are false accusations that her words or images may have caused a mentally disturbed individual to kill and maim. The fact that two of the victims are Jewish is utterly irrelevant to the propriety of using this widely used term.
Anti-Defamation League National Director Abraham Foxman released a lukewarm statement neither passionately supporting nor condemning Palin:
Palin has every right to defend herself against these kinds of attacks . . . [s]till, we wish that Palin had not invoked the phrase "blood-libel" . . . . While the term "blood-libel" has become part of the English parlance to refer to someone being falsely accused, we wish that Palin had used another phrase, instead of one so fraught with pain in Jewish history.
National Jewish Democratic Council President David Harris outright blasted the use of the term in his statement:
Instead of dialing down the rhetoric at this difficult moment, Sarah Palin chose to accuse others trying to sort out the meaning of this tragedy of somehow engaging in a "blood libel" against her and others. This is of course a particularly heinous term for American Jews, given that the repeated fiction of blood libels are directly responsible for the murder of so many Jews across centuries—and given that blood libels are so directly intertwined with deeply ingrained anti-Semitism around the globe, even today.
Jewish Funds For Justice President Simon Greer in his statement also felt Palin was completely irresponsible:
The term "blood libel" is not a synonym for "false accusation." It refers to a specific falsehood perpetuated by Christians about Jews for centuries, a falsehood that motivated a good deal of anti-Jewish violence and discrimination. Unless someone has been accusing Ms. Palin of killing Christian babies and making matzoh from their blood, her use of the term is totally out-of-line.
Although these leaders share the same religious beliefs some issues, like Sarah Palin apparently, are just too controversial to expect a consensus of opinion.
Have a tip we should know? tips@mediaite.com