Boehner Baloney? White House Claims To Have Released Benghazi Emails Two Months Ago, Boehner Ignored Them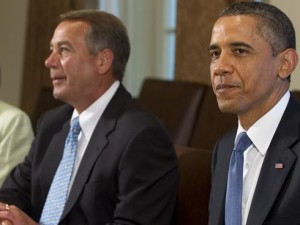 The White House took its turn in this week's soap "As the Benghazi Turns" on Friday, telling Salon.com that the GOP's outrage over Benghazi emails showing alterations in the administrations talking points is a little too late: two months to be exact.
Senior administration officials claimed Republicans did not raise as an eyebrow when the emails were released two months ago, as Speaker John Boehner skipped a briefing about the emails and didn't send a representative. The briefing, held in March by lawyers representing the Office of the Director of National Intelligence, showed members of the House and Senate Intelligence Committees the Benghazi-related emails that ABC's Jonathan Karl uncovered this week. The briefing was part of the negotiations during then CIA Director nominee John Brennan's confirmation hearings.
This didn't stop the Speaker from holding a press conference on Thursday, calling for the release of the emails, hitting President Obama and U.N. Ambassador Susan Rice for their part in the "scrubbed" emails. The White House countered, speaking with reporters on a conference call on the condition of anonymity, arguing Boehner would have seen the emails if he would have taken the time to attend the briefing where they were revealed, a briefing Minority Leader Nancy Pelosi was also invited to.
The House might have missed the ball, but the Senate seemingly did not. Both Senator Saxby Chambliss, vice chairman of the Intelligence Committee, and Senator Richard Burr, attended the briefing and left satisfied with what they learned, with Burr telling The Hill, "It answers a lot, if not all, of the questions that the committee [had] from an oversight standpoint."
This tit-for-tat on emails is sure to wage on into the weeks and months ahead, as Republicans seem steadfast on keeping the heat on the Obama administration on all things Benghazi.
Have a tip we should know? tips@mediaite.com