Bombshell: Rod Rosenstein Reportedly Talked About Secretly Recording Trump, Invoking 25th Amendment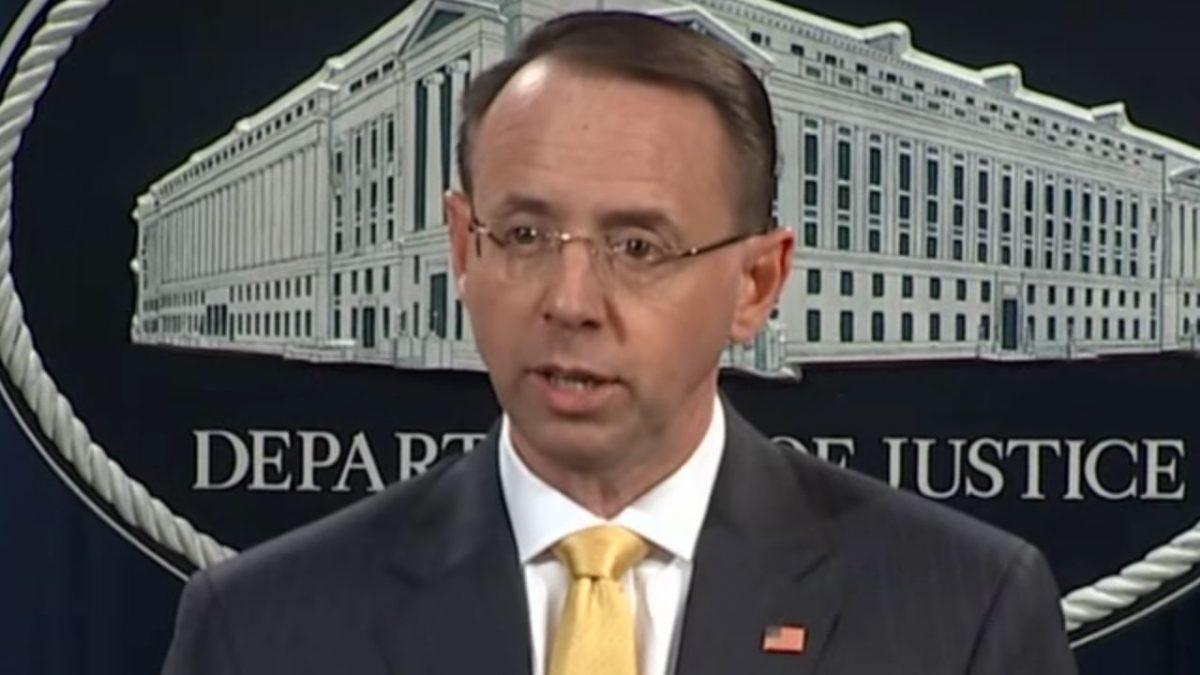 An incredibly shocking new report in The New York Times has some details about Deputy Attorney General Rod Rosenstein that will no doubt send shockwaves throughout Washington.
According to the Times, in the chaos that followed President Donald Trump's decision to fire James Comey, Rosenstein talked about secretly recording the President of the United States.
But it's not only that, for apparently Rosenstein even brought up the idea of getting members of the Cabinet to invoke the 25th Amendment to get Trump out of office:
Mr. Rosenstein made the remarks about secretly recording Mr. Trump and about the 25th Amendment in meetings and conversations with other Justice Department and F.B.I. officials. Several people described the episodes, insisting on anonymity to discuss internal deliberations. The people were briefed either on the events themselves or on memos written by F.B.I. officials, including Andrew G. McCabe, then the acting bureau director, that documented Mr. Rosenstein's actions and comments.

None of Mr. Rosenstein's proposals apparently came to fruition. It is not clear how determined he was about seeing them through, though he did tell Mr. McCabe that he might be able to persuade Attorney General Jeff Sessions and John F. Kelly, then the secretary of homeland security and now the White House chief of staff, to mount an effort to invoke the 25th Amendment.
Rosenstein provided the Times with a statement adamantly denying the report, saying, "The New York Times's story is inaccurate and factually incorrect. I will not further comment on a story based on anonymous sources who are obviously biased against the department and are advancing their own personal agenda. But let me be clear about this: Based on my personal dealings with the president, there is no basis to invoke the 25th Amendment."
A DOJ spokesperson provided the Times an account from someone who apparently said the comment about wearing a wire was made in jest, but the report says his comment was dead serious.
Andrew McCabe put out a statement over his memos at issue here:
Andy McCabe's lawyer on Rosenstein report: pic.twitter.com/ME872e6p1u

— Ryan J. Reilly (@ryanjreilly) September 21, 2018
[image via screengrab]
Have a tip we should know? tips@mediaite.com
Josh Feldman - Senior Editor