Boston Bros Who Allegedly Beat Hispanic Homeless Man Claim Inspiration from Trump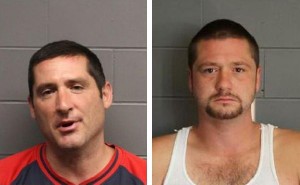 Two men who allegedly beat and urinated on a homeless Hispanic man in Boston were inspired by 2016 presidential candidate Donald Trump's inflammatory comments about Mexico back in June.
According to the Boston Globe, Scott and Steve Leader were on their way home from a Red Sox game when they came across the victim at an MBTA train stop in Dorchester, just south of Boston. They proceeded to taunt and tease the man, before ultimately beating and pissing on him.
The Leader brothers appeared in court on Wednesday and plead not guilty to the charges brought against them. However, despite their counsel's refusal to comment on the matter, the brothers' behavior after being arrested isn't improving the situation.
In addition to pissing on more things, damaging their cells and threatening the jail staff, they also allegedly told the police, "Donald Trump was right, all these illegals need to be deported."
When Trump heard of the assault and his indirect connection to it, he told reporters:
"It would be a shame . . . I will say that people who are following me are very passionate. They love this country and they want this country to be great again. They are passionate."
In addition to beating a homeless man because of his ethnicity, the Leader brothers' "passionate" nature is also on display in their respective (and extensive) criminal records.
Like the time Scott attacked a Dunkin' Donuts employee, a Moroccan man, after the September 11, 2001 terrorist attacks in New York City, Washington D.C and rural Pennsylvania. As the Globe notes, he threw a cup at the man and called him a terrorist, among other things. Leader was charged with a hate crime and sentenced to one year in prison.
[h/t the Boston Globe]
[Image via Suffolk County District Attorney's Office]
— —
>> Follow Andrew Husband (@AndrewHusband) on Twitter
Have a tip we should know? [email protected]