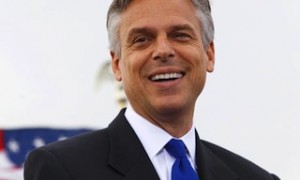 With the New Hampshire primary just four days away, the Boston Globe — a paper published in the state that Mitt Romney once governed — announced its endorsement of Jon Huntsman for the GOP nomination Friday morning:
With a strong record as governor of Utah and US ambassador to China, arguably the most important overseas diplomatic post, Huntsman's credentials match those of anyone in the field. He would be the best candidate to seize this moment in GOP history, and the best-prepared to be president.
Even though the newspaper is published in Massachusetts, the endorsement should carry plenty of weight in nearby New Hampshire. In announcing its decision to endorse Huntsman, the Globe revealed that their decision had come down to the former Utah Governor/Ambassador to China and Romney. But, according to the paper, "while Romney proceeds cautiously, strategically, trying to appease enough constituencies to get himself the nomination, Huntsman has been bold." The Globe lauded Huntsman's immigration policy, his acceptance of a post from a Democratic President ("It attests to his sincerity when he vows to lead in a bipartisan spirit,"), and his economic wherewithal.
Romney, meanwhile, got a bit of a roasting from the paper, which noted that he has, "taken pains to distance himself from much of his [Massachusetts] administration," which the Globe praised as scandal-free and bipartisan. It questioned his ability to constantly be pushed around, even though the paper believes that he will likely end up being a moderate who will make practical decisions.
In the end, the Globe wrapped up the endorsement by saying that even if Huntsman doesn't get the nomination, a win by him in New Hampshire will end up making Romney "a better candidate."
Have a tip we should know? tips@mediaite.com