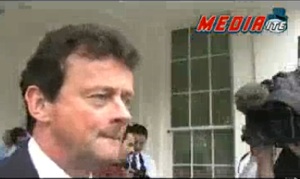 Executives from British Petroleum met with President Obama and his staff at the White House today in what was described by BP execs as a "very productive meeting." Afterward, in a tightly coordinated offering to the press, Obama and BP Chairman Carl Henric Svanberg each addressed the media separately (the full report of which can be viewed here.) But perhaps the best indication of the mood of the country (and BP's lack willingness for transparency) came after the BP statement, in which BP CEO Tony Hayward were hounded by the WH Press Corps (including Mediaite's own Tommy Christopher.)
Earlier reports indicated that the White House meeting with BP executives would only last 20 minutes, and as such, the White House press corps and media assembled earlier in the day. After three hours passed, members of the media began to show frustration (and possible hope for a constructive meeting) via their twitter pages, possibly fueling the heated response after the statement was made.
The video below was shot by Christopher just after the BP statement ended, and features a tense and stoic Tony Hayward refusing to answer a question (directed to him by Christopher himself) on whether the CEO understood what penalties BP might face if they fail to live up to its obligations to rectify the situation in the Gulf. Other unidentified voices ask "why there isn't an adequate plan?" and if "they are coming back soon?"
The kicker in the short clip below? ABC News' Jake Tapper yelling out "how's that relative trickle going?" a reference to a quote made by Hayward BP COO Doug Suttles that predicted the disaster would be down to a "relative trickle" by this week.
Have a tip we should know? tips@mediaite.com