As Many As 100 Injured After Major Train Crash at Hoboken Station, 'Possible Mass Casualties' (UPDATED)
A New Jersey Transit train this morning has crashed at the historic Hoboken station with reports of injuries and "possibly mass casualties," according to NBC.
The first images from social media are beginning to emerge on this breaking news out of New Jersey, a densely populated area across the river from Manhattan that services tens of thousands of daily commuters into the city.
NBC News's Cal Perry reported that the NJ Transit train "jumped the tracks," before plowing into the waiting area.
Reports of more than 100 people injured in train crash at #Hoboken Terminal, New Jersey: https://t.co/inrscGqiYq pic.twitter.com/FL3DMuRry5

— Mic (@mic) September 29, 2016
NJ transit train just crashed in Hoboken terminal. pic.twitter.com/ZevCYtYx8C

— Eric (@big_Poppa_Chop) September 29, 2016
Massive train crash at #Hoboken Path Station. Injuries reported. Train apparently ran full force into station. pic.twitter.com/rgt9pycnL4

— Nicolette (@NewsNicolette) September 29, 2016
BREAKING: Possible mass casualty situation after train crashes into Hoboken station https://t.co/labB0RzTMR pic.twitter.com/h93SRgpCCD

— NBC New York (@NBCNewYork) September 29, 2016
Following the #Hoboken train crash this AM. Every medic, cop & firefighter is here. MANY injuries. pic.twitter.com/YyrfinYfHo

— Christiana Pascale (@ChrisPascale6) September 29, 2016
ABC 7 New York has reported that the train number was 1614 on the New Jersey Transit Pascack Valley Line. The train was scheduled to pull into the Hoboken terminal at 8:36 a.m. EST but was running 10-15 minutes behind schedule at the time.
Injuries "appear to be in the first car," which jumped the tracks, and ABC has reported that there are an estimated 100 injuries with triage services being set up in the station.
New Jersey Transit is reporting that some passengers are still trapped. Part of the Hoboken terminal itself has collapsed as a result of the accident, with images revealing that the roof has caved in at parts: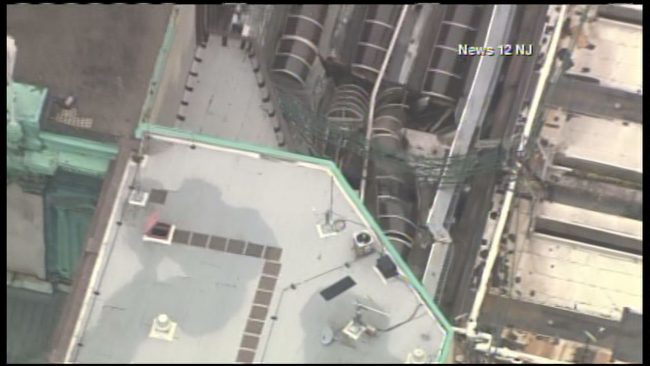 PATH Train service has been suspended at this time and first responders are on the scene administering help to the injured. This story is breaking and we will update as more information becomes available.
UPDATED: 10:14 a.m. EST: NBC News is reporting that the death toll from Thursday's accident has risen to 3.
JUST IN: Medical center spokesman says 2 dead at hospital, bringing death toll to at least 3 after NJ train crash – @NBCNewYork

— NBC Nightly News (@NBCNightlyNews) September 29, 2016
[image via ABC News]
Have a tip we should know? tips@mediaite.com