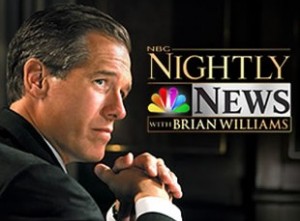 A featurelength article in this week'sNew York Magazine aims to confirm what many media critics have asserted for the last few years: NBC News anchor Brian Williams is a funny, funny man. The essay collects a number of anecdotes and video clips of Williams' numerous appearances on late night talk shows (either as an entertaining guest or comedic cameo), in addition to numerous appearances playing himself on NBC sitcoms like 30 Rock. While we admire Williams' willingness to show his range, and perhaps more importantly, not take himself too seriously, maybe it's time for someone to come out and say it: he really isn't that funny.
As celebrity profiles go, the NY Mag essay, written by John Swansburg, is a well-constructed specimen, pegged to the somewhat tired narrative of Williams' innate sense of humor. The second graf of the essay exemplifies the everyman-as-comedian network news host theme:
Williams has been honing his act for some time—the first of many entertaining appearances on Conan's Late Night occurred back during the Clinton administration—but it's only recently that he's shown how funny he can be. And as demand for his comic talents has grown, balancing the resulting opportunities with his day job has proved more challenging. Such are the hazards of juggling the roles of anchor and semi-pro wiseacre that the necktie he removed as we sat down for supper—a purple number, bordering on the foppish—had earlier that day been the source of mild controversy: To buy time for his appearance on Jimmy Fallon's show, which tapes in the late afternoon, Williams had prerecorded the headlines segment that opens his 6:30 newscast earlier than usual, then, on his way back to the newsroom from Fallon's studio, spilled soda on himself, requiring a tie change before the live newscast began. Eagle-eyed viewers noticed the switcheroo, prompting Williams to put up a blog post in which he came clean about l'affaire cravate and offered an apology to "the tie community."
No this is not a backlash piece, and yes, Williams appears to have great comedic timing and wit. But Williams' well-honed reputation of being really funny actually hurts his attempts at being…well, really funny.
Take, for example, Williams' appearance on Morning Joe last December. When asked to recap the year in media, Williams went on a very funny jag about how the wide-eyed wonder that the NY Times had discovered and reported on the borough of Brooklyn :
I think the media story of the year, in 2010, was the NYT's discovery of Brooklyn. Once a day, there's a story about all the riches offered in that borough. There are young men and women wearing ironic glass frames on the streets. There are open air markets, like trading posts in the early Chippewa tribe, where you can make beads at home and then trade them for someone to come over and start a small fire in your apartment that you share with nine others. Artisanal cheeses. For sale, on the streets of an entire American borough. It's been fascinating to watch the paper venture over the bridge.
In case you missed that particular bit on that episode of Morning Joe, don't worry. If you ever take a cab in NY City, there is a decent chance that you will catch nearly the same exact gag in a video he did for NY Taxis. Making fun of hipsters in Brooklyn isn't exactly edgy material, but doing your own material twice is more something you'd see in Hackensack (a video of which you can watch below.)
There is no question that Williams has great comedic chops, but anyone that knows comedy knows it's all about timing and wit, two characteristics that Williams has in spades. But he also has greatly benefited from the low expectations of humor that have gone hand in hand with his national news anchor gravitas (accumulated for well over a decade now.) While he benefits from the news anchor persona, it also does his comedic delivery a slight disservice as the viewer almost never can forget that "hey that's Brian Williams being funny!"
This is not to take anything away from Williams, whose best attribute is perhaps his willingness to play the fool and/or make fun of himself. It's just that he's "news-anchor funny," in the same way that Chris Christie is "Governor hot."
The entire piece on Brian Williams is worth reading, but don't expect to laugh. Its a fun read, just not funny. Almost like Brian Williams himself.
Watch Williams' NY Taxi video embedded below:
Have a tip we should know? tips@mediaite.com