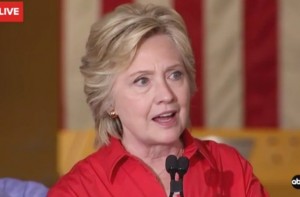 Hillary Clinton is being sued by parents of Sean Smith and Tyrone Woods, two of the four men who died in Benghazi in 2012.
The lawsuit alleges that Clinton's negligence was directly responsible for Smith's and Woods' deaths, even saying that terrorists were able to locate them because of "the information that was obtained from Defendant Clinton's 'extremely careless' handling of confidential and classified government information."
But aside from the wrongful death and negligence charges, they're also going after Clinton for defamation and intentional infliction of emotional distress.
The defamation charge concerns this:
"Defendant Clinton made false and defamatory statements negligently, recklessly, purposefully, and/or intentionally with actual malice… by stating that Plaintiffs were lying about Clinton having told them that the Benghazi Attack was caused by an anti-Muslim YouTube video."
The lawsuit makes multiple mention of Clinton's emails as possibly related to Benghazi, including here:
It is highly probable, given Defendant Clinton's history of reckless handling of classified information, that Defendant Clinton, as Secretary of State, sent and received information about Ambassador Christopher Stevens and thus the U.S. Department of State activities and covert operations that the deceased were a part of in Benghazi, Libya. This information was compromised from the second that it left Defendant Clinton's private e mail server and easily found its way to foreign powers including, but not limited to Russia, Iran, China, and North Korea.
Both Patricia Smith and Charles Woods have recently spoken out strongly against Clinton, directly blaming her for their sons' deaths.
You can read the full lawsuit here.
UPDATE –– 10:20 pm EDT: The Clinton campaign has responded:
Clinton campaign spox @NickMerrill responds to Larry Klayman's Benghazi lawsuit filed against Clinton today… pic.twitter.com/KkvL6cfOYK

— Dan Merica (@danmericaCNN) August 9, 2016
[h/t Scott MacFarlane]
Have a tip we should know? tips@mediaite.com
Josh Feldman - Senior Editor