UPDATE: Department of Defense Lockdown After Metro Shooting, More Details From D.C. Resident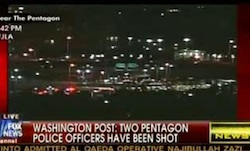 A shooting at the Pentagon's metro station in D.C. has caused the headquarters of the Department of Defense to go on lock-down mode after at least 3 people were injured in the attack. Early reports on the shootings – occurring around 7 p.m. – have identified two of the victims as members of the Pentagon Force Protection Agency.


The 3rd victim is now being identified as the shooter, and has been taken into custody.
UPDATE (10:18): We have both the Pentagon press conference video, as well as a first-person report on the scene in D.C. from Mediaite contributor Michael Triplett:
I live about 2 miles away and used to use the Pentagon Metro station on a daily basis. When I went by this evening, all the entrances to the Pentagon appeared to be blocked off and buses (it is a major transportation hub) were being diverted to another station.

The shooting took place at the top of the escalators that lead down to the Subway. The whole area was rebuilt after 9/11 to eliminate direct access from Subway and to move buses further away from the building.

Workers and visitors enter the Pentagon where the shooting occurred. There is extensive security, with roaming guards carrying rifles and other non-handguns. They guard the entrances to the Metro, as well as bus bays.

The shooting occurred at the busiest public transportation hub in Suburban Virginia, with two subway lines and over 20 bus lines converging at the Pentagon.
UPDATE (11:10): Fox News confirms the gunman was identified as 36-year-old John Patrick Bedell
Have a tip we should know? tips@mediaite.com