Senate Votes Down Obamacare 'Skinny Repeal' 51-49, McCain Casts Decisive Vote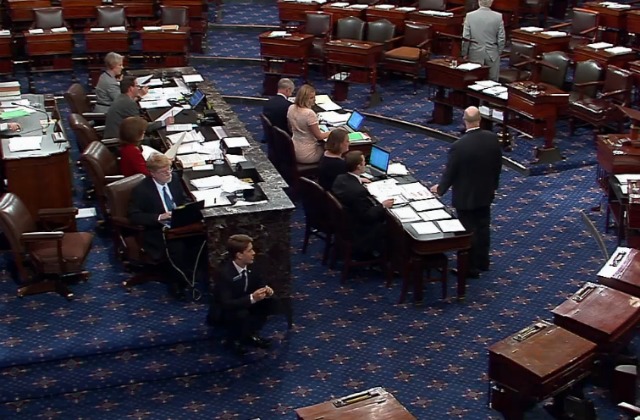 In a dramatic late-night vote, the Senate struck down the so-called "skinny repeal" of Obamacare by a 51-49 margin.
The key vote was cast by Sen. John McCain (R-AZ), who returned to the Senate this week after being diagnosed with an aggressive form of brain cancer. McCain made a speech on the Senate floor Tuesday in which he called for bipartisanship and denounced the process by which his fellow Republicans were trying to push Obamacare repeal through.
Sen. Susan Collins (R-MN) and Sen. Lisa Murkowski (R-AK) broke from their party and voted against the measure, as they did earlier in the week on the motion to proceed — which passed 51-50 (with Vice President Mike Pence's tiebreaking vote) and paved the way for the past several days of Senate floor debates.
But this time, they were joined by McCain, who left everyone in suspense by telling reporters "Wait for the show."
Democrats, it turned out, were more than happy with the show's outcome, as the Arizona Senator cast what will go down in the history books as one of his most important votes of his Senate career.
"This is clearly a disappointing moment," said Senate Majority Leader Mitch McConnell (R-KY), who did a great deal of arm-twisting among his membership trying to pass the legislation. But ultimately, he came up short.
[image via screengrab]
——
Follow Joe DePaolo (@joe_depaolo) on Twitter
Have a tip we should know? [email protected]
---
Joe DePaolo - Senior Editor