On Thursday afternoon, multiple shots were heard outside the west end of the Capitol Building in Washington, D.C. In response, Capitol police were seen with guns drawn and shutting down the perimeter. Debate was suspended in the House, and Minority Leader Nancy Pelosi (D-CA) was notified during her speaking time.
NBC News' Luke Russert first broke the news on Twitter: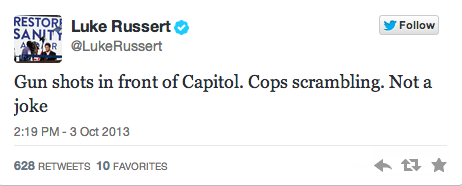 Tampa Bay Times reporter Alex Leary tweeted a photograph of police in ready position with guns drawn: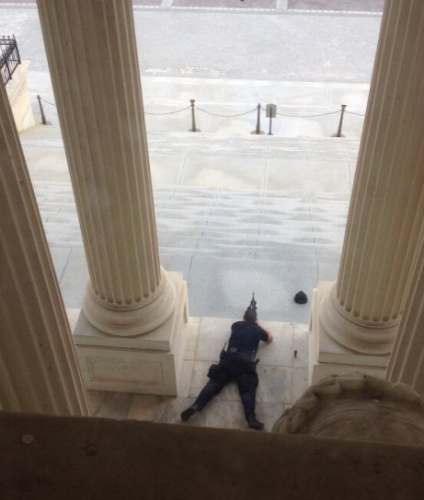 UPDATE: The scene from outside the Capitol, as seen on CNN: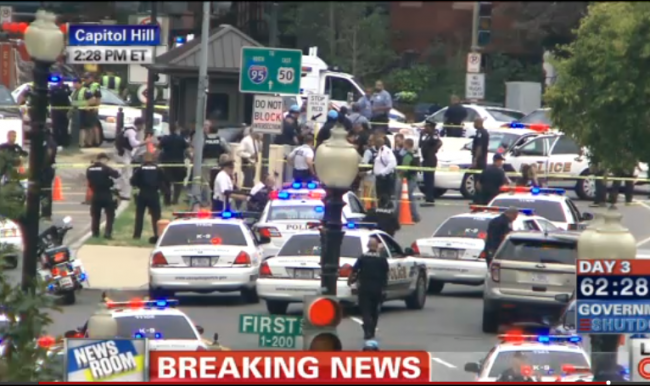 Tourists were reportedly told to run away from the scene. One man inside the Capitol captured an image of police running with machine guns:
No joke on Capitol Hill as Cops are running with machine guns as reports of shots being fired at Capitol pic.twitter.com/vdjAKkLP4y

— Marc Schloss (@marcschloss) October 3, 2013
UPDATE 2:40 p.m. ET: Here's the initial NBC News report on the incident:
UPDATE 2:45 p.m. ET: Bloomberg News reports that DC police say the shooter is in custody:
BREAKING: Capitol Police say shooter in custody

— Bloomberg News (@BloombergNews) October 3, 2013
UPDATE 2:53 p.m. ET: It appears as though the shooting came at the tail end of a police chase. ABC News reports that "Someone tried to ram gate at the White House, then fled to Capitol Hill. Shots were fired, but unclear by whom."
Photographic evidence shows a police car wrecked outside the Capitol building:
Cop car wrecked . @DailyCaller pic.twitter.com/y8lJiAyIWP

— Whitney Waters (@WhitneyWaters14) October 3, 2013
UPDATE 2:55 p.m. ET: ABC News has more alleged details of the shooter who is reportedly in custody:
ABC's @MLevineReport: source says suspect reported dead on scene. A female. #capitollockdown

— Betsy Klein (@betsy_klein) October 3, 2013
UPDATE 3:03 p.m. ET: CNN reports that both the Senate and House sides of the Capitol Building are no longer under lockdown.
UPDATE 3:04 p.m. ET: Photographic evidence emerges of the reported "black car" crashed into a police security booth. Also pictured, police cruisers damaged by the chase:
#Breaking Photo of Car crashed into a guard shack near the #Capitol #Shooting. Unsure if its the suspect –@BerinSzoka pic.twitter.com/1d2fsCAXqw

— Twitsnoop (@Twitsnoop) October 3, 2013
And another photo of a "smashed-up police car":
The smashed up police car: pic.twitter.com/g5qInZnJka

— Ryan J. Reilly (@ryanjreilly) October 3, 2013
UPDATE 3:16 p.m. ET: CNN reports that there was a child removed from the vehicle that crashed into the police barricade. The driver herself is reportedly dead from multiple shots to the head.
UPDATE 3:18 p.m. ET: The "All Clear" has been given. Lockdown is officially over.
UPDATE 3:30 p.m. ET: The House of Representatives has reconvened.
Check the Mediaite homepage for additional details of the story, now that the active situation has ended.
— —
>> Follow Andrew Kirell (@AndrewKirell) on Twitter
Have a tip we should know? tips@mediaite.com