Breitbart Runs Piece Claiming Paul Ryan Is Secretly Pushing to Get Clinton Elected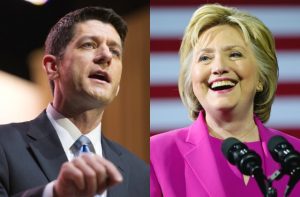 Breitbart clearly hates Paul Ryan. They called him a "double agent" for daring to criticize Dear Leader, they propped up his GOP primary opponent, they attacked him for sending his children to Catholic school, and former CEO Steve Bannon reportedly said multiple times that he is "the enemy."
Ryan, of course, has given up on Donald Trump and is focusing on congressional races, while still making it clear he's not happy about what a President Hillary Clinton would do.
Yesterday Breitbart's anti-Ryan mania led them to run a piece with this headline: "He's With Her: Inside Paul Ryan's Months-Long Campaign to Elect Hillary Clinton President."
Yes, they are seriously contending that Ryan secretly (or not-so-secretly, if they've discovered it) wants Clinton to win.
What's their evidence? Strap in:
Both Clinton and Ryan have said that they see themselves as representatives not only for American citizens, but also for foreign nationals and foreign interests. This view that the needs of foreign citizens are equal to the needs of American citizens reflects the belief that Americans are only part of many interest groups that a lawmaker ought to consider when crafting legislation—even as he or she negotiates with other countries, which always put their citizens first.
Yes, Breitbart is arguing that Ryan thinks that members of Congress have a duty to put themselves in the shoes of all people… which is a bad thing.
For the record, here's the context of the Ryan quote that they freak out about within:
This is the American Dream. This is the American idea. Look, put yourself in another person's shoes, which if you're in elected office, that's what you kind of have to do that almost every single day. The job we have–and what we do is we take different people's perspectives. The gentleman from India who's waiting for his green card. The DREAMer who is waiting. We take all these different perspectives. We process it through our values and our morals and our principles. And then we come up with the answer to try and solve this problem. That's basically what we do in our jobs.
The Breitbart reaction at the time was "Ryan's statement may strike some listeners as bizarre—many may think that the job of U.S. Congressman ought to be to put himself in the shoes of his citizen constituents who elected him, giving their needs greater priority than the desires of someone from a foreign country."
Breitbart accuses Ryan of favoring open borders just like Clinton and says he's clearly been "undermining" Trump at every turn.
They even declare, "Ryan has seemed much more aggressive in attacking Trump during interviews about the election than he has been in going after Hillary Clinton."
(They are aware Ryan has been publicly making a strong case against Clinton, right?)
[image via Christopher Halloran/Shutterstock, Evan El-Amin/Shutterstock]
— —
Follow Josh Feldman on Twitter: @feldmaniac
Have a tip we should know? tips@mediaite.com
Josh Feldman - Senior Editor