Breitbart's Joel Pollak Clashes with Lemon Over Bannon: Name One White Nationalist Piece on Site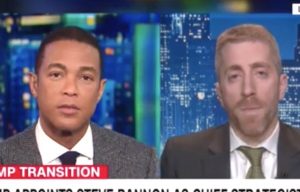 Breitbart senior editor-in-chief Joel Pollak appeared on CNN tonight to defend former site chief Steve Bannon from accusations of white nationalism and anti-Semitism.
Pollak wrote a piece for Breitbart today saying that "it defies logic" to say Bannon is anti-Semitic. "Steve is outraged by antisemitism," he said. "If anything, he is overly sensitive about it, and often takes offense on Jews' behalf."
Critics have pointed to Bannon's defense of the alt-right (as well as saying he considers Breitbart a platform for the alt-right) and headlines like "Bill Kristol: Republican Spoiler, Renegade Jew" as evidence, but Pollak said he knows Bannon and that he "does not have a bone of prejudice in his body."
Don Lemon confronted him about the kind of things that Breitbart "traffics" in, joined by Evan McMullin and former Breitbart spokesman Kurt Bardella.
Pollak challenged Lemon to name one white nationalist piece that has appeared on Breitbart and even called him out for not doing more reading before the segment.
Lemon made his distaste for Breitbart known as he kept clashing with Pollak over Bannon. Pollak kept pressing for specific examples and also wanted McMullin to "apologize" for lying about and smearing Bannon.
At one point Pollak suggested that calling Bannon a white nationalist would be like if he took Van Jones' "whitelash" remark and raised questions about whether CNN is a "black nationalist" network.
Lemon pointed to a piece on Breitbart that defended the Confederate flag. Pollak said the piece was just defending it as a "historical symbol."
Watch both segments above, via CNN.
[image via screengrab]
— —
Follow Josh Feldman on Twitter: @feldmaniac
Have a tip we should know? tips@mediaite.com
Josh Feldman - Senior Editor