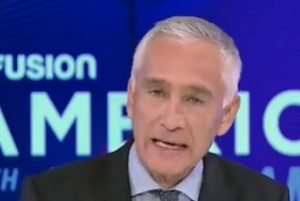 Univision anchor Jorge Ramos has had quite a storied history with Donald Trump's presidential campaign, including being ejected from and re-admitted to a Trump press conference, and more recently, having a conservative watchdog group ask his network to remove him from the anchor chair until after Election Day. On Sunday morning's Reliable Sources, host Brian Stelter asked Ramos to answer critics who say he should be removed because he's "hopelessly biased" against Trump:
STELTER: On Friday, the conservative group the Media Research Center, a conservative media monitoring group, called on Univision to remove you from the anchor chair through Election Day. Now, I know that is not going to happen. I know Univision strongly supports you. But they are saying that you are hopelessly biased against Donald Trump. Well, what do you say to those people who are saying you should be removed from the anchor chair?

RAMOS: Well, what I can tell them is that I have been doing this job almost 30 years. On November 3, it's going to be 30 years as an anchorman for Univision. And I think I am just a journalist asking questions. And I believe completely in objectivity. If five people die, we say five. If it is red, it is red. But the other level of journalism is that it is our responsibility to question those who are in power. And that's I think precisely what I'm doing with Donald Trump, because what are we going to do? If a candidate is making racist remarks, what are we supposed to do? Are we supposed just to sit down silently and listen to him? No, I think precisely our job as journalists is to question them.
Ramos raised his critics' hackles with an op-ed this week in which he asserted that "neutrality is not an option" in this election. Ramos also faced up to the criticism in an interview with Fox News this week.
Have a tip we should know? tips@mediaite.com