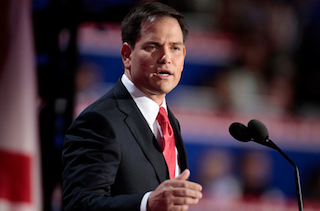 Breitbart's Matthew Boyle reported Tuesday that Republican presidential candidate Marco Rubio was "snubbing" the annual Conservative Political Action Conference (CPAC), basing his reporting off a press release issued by organizer the American Conservative Union (ACU).
"Although, Marco Rubio has built a conservative record and has a high ACU rating, he and his campaign have made a rookie mistake," ACU said in its press release. "Today the Rubio campaign informed ACU's chairman that their candidate is unwilling to make time to meet with activists and answer their questions at CPAC 2016."
The only problem? According to the Rubio campaign, they never said anything of the sort. They claim they are willing to attend CPAC, but just need more time to figure out his busy March schedule.
Emails provided by the Rubio campaign to RedState's Leon Wolf appear show that the campaign told ACU they wanted to come, but couldn't yet commit to a date or time. ACU president Matt Schlapp responded by calling it "good spin" and saying he was taking their response as a no.
The ACU and Breitbart are sticking by their initial account, even after the emails were publicized. "If not true, then what time did they give us?" ACU tweeted. "They should furnish the emails that says what time they're coming." Meanwhile, Breitbart editor John Notle insisted the emails proved their story was correct.
Confirming @mboyle1's excellent reportage is appreciated. https://t.co/KpkTzDNSFG

— John Nolte (@NolteNC) February 23, 2016
[Image via screengrab]
——
>>Follow Alex Griswold (@HashtagGriswold) on Twitter
Have a tip we should know? tips@mediaite.com