Bring Back Birtherism? GOP Rep. Says Congress Should Revisit Questions About Obama's 'Validity'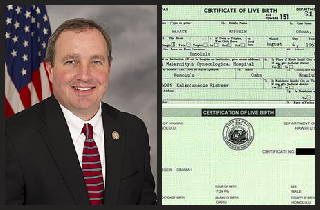 Appearing on TruNews talk radio this week, Rep. Jeff Duncan (R-SC) agreed with host Rick Wiles that Congress ought to revisit questions about the validity of President Obama's birth certificate in light of the recent scandals involving the Internal Revenue Service and the Department of Justice.
After Wiles and Rep. Duncan discussed their desire to pursue and deport illegal immigrants, rather than extend the possibility of citizenship to them, the host asked if the House has any intention to also "pursue Barack Obama's phony identification papers."
At first, Duncan shied away from directly addressing the so-called "birther" concerns, simply adding that Americans had a chance to vote Obama out in November and, in his belief, regrettably didn't do so. Wiles then asked: "If we know they are lying about all these other things, why not go back and say 'Well, maybe the first scandal was a lie too?'"
"There you go," Duncan agreed. "I'm all with you. So let's go back and revisit some of these things because Americans have questions about not only the IRS scandal but also about the president's validity."
Throughout Obama's presidency, various conspiracy theories have arisen about his birth certificates, including the belief that the long-form certificate publicly released in 2011 was a forgery using image-editing software. Though these so-called "birther" beliefs have been out of the news in recent months, they still seem to hold weight with some of the president's political opponents.
Listen below, as clipped by RightWingWatch:
— —
>> Follow Andrew Kirell (@AndrewKirell) on Twitter
Have a tip we should know? tips@mediaite.com