Brit Hume Goes After NY Magazine Writer Who Claimed Fox News Ignored Gun Control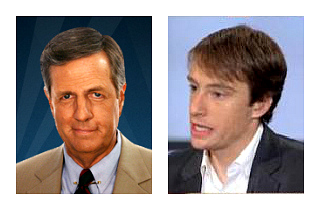 Fox News contributor Brit Hume went after New York Magazine writer Gabriel Sherman on Tuesday after Sherman published a report which claimed Fox News Channel has intentionally avoided any discussion of gun control in the wake of the tragedy in Connecticut. When The Hollywood Reporter published a report contradicting Sherman's findings, Hume insisted that Sherman publish a retraction.

On Monday, Sherman reported that FNC's brass had instructed their hosts and anchors to avoid the topic of increased gun ownership restrictions after 26 teachers and children were massacred on Friday.
According to sources, David Clark, the executive producer in charge of Fox's weekend coverage, gave producers instructions not to talk about gun-control policy on air. "This network is not going there," Clark wrote one producer on Saturday night, according to a source with knowledge of the exchange.
The Hollywood Reporter looked into the claims made in Sherman's report and concluded, after speaking with sources within FNC, that Clark's memo to panel guests "was not a network-wide edict" but "an email to three people concerning a panel discussion on one show."
THR also noted, as did Sherman, that Fox News Sunday introduced the topic of gun control in conversations with both Rep. Louie Gohmert (R-TX) and Sen. Dick Durbin (D-IL).
But the network also ran two segments on Monday discussing the debate over gun control. In an opinion segment on The O'Reilly Factor, the host debated a gun rights advocate about the efficacy of new gun laws in preventing further violence. The Five cohost Bob Beckel also expressed his support for new gun control measures in a debate on the subject on Monday.
Hume took the opportunity of THR's report to demand a retraction of Sherman: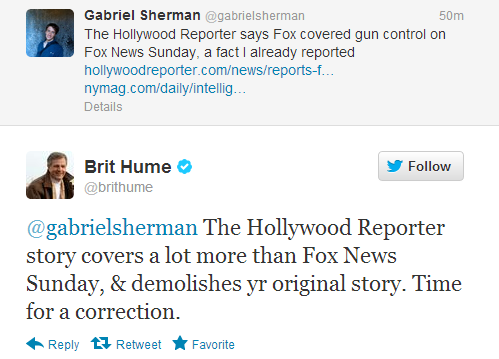 UPDATE: Sherman has replied to Hume's request for a retraction, saying he stands by his reporting:

This post has been updated since it was originally published.
> >Follow Noah Rothman (@Noah_C_Rothman) on Twitter
Have a tip we should know? tips@mediaite.com