British MP Louise Mensch: I 'Must Apologize To Any And All Journalists Who Were Forced To Watch Me Dance'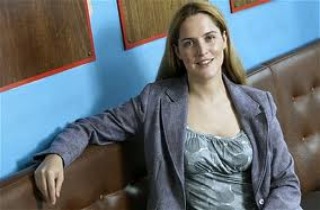 …Actually, she wrote "apologise," but we helpfully translated it into American.
British writer and Member of Parliament Louise Mensch is currently enjoying ("enjoying") some time in the U.S.'s media spotlight not only for her role in the British government's inquiry into Rupert Murdoch and James Murdoch's roles in / knowledge of News of the World's phone hacking scandal, but also because she cited CNN's Piers Morgan while interrogating Murdoch, prompting the television host and former newspaper editor to ask Mensch to "show some balls." Fortunately, Mensch did not and, in fact, apologized to Morgan for her comments.
Mensch was recently asked a few questions by "David Jones Investigative Journalists" about certain events from her past. The questions have been published on UK site "Politics Home:"
1. Whilst working at EMI, in the 1990s, you took drugs with Nigel Kennedy at Ronnie Scott's in Birmingham, including dancing on a dance floor, whilst drunk, with Mr Kennedy, in front of journalists. Photos of this exist.

2. Whilst working at EMI, in the 1990s, you wrote a novel, of a sexual nature, on your work computer, during working hours, and that it was this that caused EMI to terminate your employment. Correspondence of this exists.

3. The resultant novel included derogatory references to a driver called Roger, a character you based on Roger Lewis, your then line manager, Managing Director at EMI, who is now Group Chief Executive of Welsh Rugby Union.
Mensch responded to these questions within three days. And her responses are nothing short of delightful. Emphasis ours:
1. Although I do not remember the specific incident, this sounds highly probable. I thoroughly enjoyed working with Nigel Kennedy, whom I remember with affection. Additionally, since I was in my twenties, I'm sure it was not the only incident of the kind; we all do idiotic things when young. I am not a very good dancer and must apologise to any and all journalists who were forced to watch me dance that night at Ronnie Scott's.

2. Writing the first few chapters of Career Girls on my EMI computer is quite correct. However, it was all done after work hours. It was also not why I was fired by EMI. "Leaving work early" and "missing the odd day at work" along with "inappropriate dress" were the reasons quoted to me.

3. "Career Girls" was my first novel. I used the names of many real people I knew for minor characters, such as journalists, chauffeurs, bankers, and so forth. Roger Lewis was probably amongst them, as were (off the top of my head) Therese Coffey MP, now my colleague on the Select Committee, Jeremy Quin, Damian Hinds MP, Maurice Oberstein, Rod Clayton, James Robertson, and many more. None of them have ever complained about my using their names in this way.
We're imagining her dancing to be somewhat similar to this.
In any case, that is certainly one way to answer potentially uncomfortable questions from the press. Perhaps a dance-off between Ms. Mensch and Mr. Morgan could be a possibility? (Please?)
h/t Politics Home, via @adamclarkestes
Have a tip we should know? tips@mediaite.com