Rep. Allen West: Tea Party 'Schizophrenia' Not Helpful During Debt Ceiling Negotiations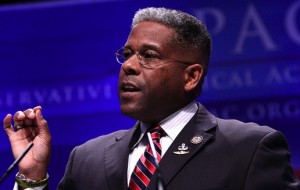 Congressman Allen West, one of the most vocal tea party supporters in Congress, is insisting that his support of the Boehner debt ceiling bill does not mean he is throwing the tea party under the bus or defecting from them in any way, and said that tea party "schizophrenia" is not conducive to a positive outcome in the ongoing negotiations.
West appeared on Laura Ingraham's radio show, and she started by having him respond to accusations that he was defecting from the tea party on the debt ceiling debate. He argued that so far the Republicans had achieved a victory by successfully getting President Obama and the Democrats to remove tax hikes from the table.
We have to continue to put the pressure on. We have to continue to be on the initiative and have the initiative and offense. I do support the Boehner plan. It's not 100 percent for me, but it is the 70 to 75 percent that I can take into the fight and I think it ensures we do the right thing by my constituents and the American people.
Ingraham later presented the war veteran with a military analogy regarding the relationship between John Boehner and tea party congressmen. She asked if there is one presiding leader like Boehner, whether it would be appropriate in this circumstance to metaphorically "mutiny" against the captain of the Republican ship.
West agreed with the analogy, saying that if you ran a combat operation and refused to attack or attacked in a different direction from the rest of the herd, "you split your force and the next thing you know, you create a gap by which the opposition can exploit you." He also reassured people by recalling an incident where Congressman Peter Welch asked if the tea party would be actively opposing Boehner's bill, which West immediately saw as an attempt by the other side to sew the seeds of division in the ranks. To West, this indicates that the Democrats "fear" the Boehner plan.
Once again, he insisted that his support for the plan does not mean he is a tea party defector, and even questioned why people would see him as such.
The folks who… one minute they're saying I'm they're tea party hero, and, what, three, four days later I'm a tea party defector, you know, that kind of schizophrenia I'm not going to get involved in.
You can listen to the full audio here:
Have a tip we should know? tips@mediaite.com
Josh Feldman - Senior Editor