British Partiers Held On Terror Charges After Tweeting They Were Going To 'Destroy America'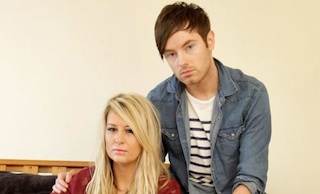 Whoops! A couple of young Brits had a pretty horrible vacation after they were arrested in the Los Angeles and held for 12 hours. The reason? They had tweeted that they were coming to "destroy America." The only problem is that they were actually just slangily talking about partying. Basically, it's as if the police banned you from buying paint brushes after hearing you claim you were going to "paint the town red."
Leigh Van Bryan, a 26 year old bar manager, and his 24 year old buddy, Emily Bunting, didn't have anywhere near the trip that they planned on. And it was all because of a tweet Bryan sent a few days earlier saying "Free this week, for quick gossip/prep before I go and destroy America." This had caused them to be pegged as a potential target and get picked up by armored guards upon arrival.
Oh, those terrorists. They're always such catty gossips.
But the Department of Homeland Security had more evidence too. They found an earlier tweet from Bunting which read "3 weeks today, we're totally in LA pissing people off on Hollywood Blvd and diggin' Marilyn Monroe up!" The Monroe bit was actually just a reference to a Family Guy joke. Unfortunately, the police apparently missed that episode. Bunting told the Daily Mail that they searched through her things for "spades and shovels" and asked her if she was going to be Bryan's "lookout" during the excavation.
So how did their trip start? From the Daily Mail:
"Leigh said: 'It's just so ridiculous it's almost funny but at the time it was really scary. The Homeland Security agents were treating me like some kind of terrorist.

'I kept saying to them they had got the wrong meaning from my tweet but they just told me "you've really f***** up with that tweet boy".

'When I was in the van I was handcuffed and put in a cage. I had a panic attack but the worse was yet to come.

'When we arrived at the prison I was shoved in a cell on my own but after an hour two huge Mexican men covered in tattoos came in and started asking me who I was.

'They told me they'd been arrested for taking cocaine over the border.

'When the food arrived on the tray they took it all and just left me with a carton of apple juice.'"
Bummer, dude.
You know, I'm trying really hard to feel bad for these kids but I really can't. Sure, it's kind of awful that the youth of today have to live in a constant state of fear and paranoia, trapped in a veritable police state where Big Brother can arrest you simply because he misunderstood a joke, but, lets be honest; anyone who goes around quoting Family Guy is basically a terrorist anyway.
Have a tip we should know? tips@mediaite.com