British Singer Morrissey On 'Useless' Obama: 'He's Proven To Be Simply A Set Of Teeth'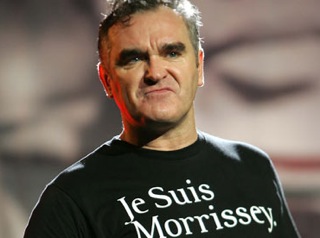 British pop-rock legend Morrissey is speaking out against President Obama! Morrissey, the former lead singer of The Smiths, was asked in a recent interview with MSN's Juice Online what sort of social issues were in his interest, and did not hesitate to attack most major world leaderships for their inaction in Syria, taking a detour to attack President Obama for being "useless" and declaring the "age of the President or the Prime Minister dead."

RELATED: Game Changer? Barry Manilow Agrees With 'Just About Everything' Ron Paul Says
Morrissey, known for his outspoken and sometimes arbitrary political statements, explained that he lamented the "uselessness of the United Nations" and made a moral correlation between Syrian dictator Bashar al-Assad and the "British so-called royals" and declared that "all world leaders are dictatorships." He then posited the future for the concept of the state would change dramatically:
"It's only my personal view, but I think the age of the President or the Prime Minister is dead. People everywhere have lost faith in politics, and rightly so. Something different needs to happen. I think we were all initially swept along with the Obama win, but he's proven to be simply a set of teeth, and useless in every other regard. Time and time again we see the same scenario whereby political figures only see the public as electorate, and once anyone is elected they appear to hate the people. British politics, as the world knows, is a joke. Yet it's rarely funny."
As no one, at press time, has yet to ask White House Press Secretary Jay Carney about Morrissey's comments, President Obama's opinion on his musings are still a mystery.
[h/t Breitbart.com]
Have a tip we should know? tips@mediaite.com