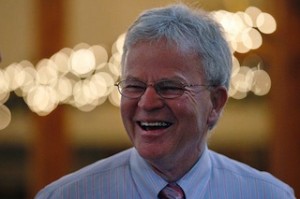 Buddy Roemer, the former GOP candidate who was shut out of the debates and is now running for President as an Independent, has probably conjured up more novel ideas in his campaign than the rest of the candidates combined. First, there was the idea of not accepting more than $100 from supporters (people and corporations alike), in an effort to keep big money out of his campaign. Then, he asked people to donate tweets in place of cash, to generate more buzz for his campaign. On Friday, Roemer announced his latest undertaking — inviting the nation to play against him in a March Madness NCAA Bracket Challenge. Love or hate the man (or even if you're just learning about him now), it's undeniably a fun idea.
For those unfamiliar, March Madness is the moniker applied to the annual NCAA Tournament, where 68 teams compete for the National Championship. Every year, millions of Americans fill out brackets, making predictions on how the games will end up.
"College basketball enthusiasts all over America are engulfed in the frenzy of March Madness, and the Roemer for President campaign is no different," a letter published on Roemer's website read. "In between spreading my message of ending politics as usual, ending the corruptive influence of money in politics, and ending unfair trade, I will be keeping an eye on my championship bracket."
The challenge, hosted on Yahoo, is open to anyone who wants to play. And just to sweeten the deal, Roemer is offering a prize: "The winner and their guest will have lunch with me during a campaign stop this spring," he writes. "If this requires me flying to you, or you flying to me, we will make it happen."
March Madness! Buddy Roemer! And you can tell all your friends, bragging about their office pools, that you're in a group with a Presidential Candidate. Huzzah to that.
You can join Roemer's group here. The deadline for entering is March 15, at tip-off.
Have a tip we should know? tips@mediaite.com