Burned After Reading: Paul Ryan Asks George Clooney to Stop Sending Him Clinton Fundraising Emails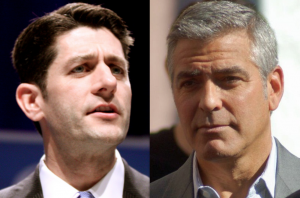 George Clooney is a man with political opinions and maybe even some political aspirations. He's never been shy about his disdain for Donald Trump or the GOP in general and he's been even more vocal about his support for Hillary Clinton. He stated he would do "whatever she wants, whatever way [he] can help" to get her elected. Since he raised $10 million for President Barack Obama when he was running for reelection in 2012, that was no empty promise.
Now, the heartthrob and Fantasy Senator is making good on his word and House Speaker Paul Ryan is none too thrilled about it. Page Six is reporting that upon receiving a fundraising email for Clinton from Clooney, Ryan used his own email list to tell his supporters how gross he found the whole thing.
True, the $33,400 price tag on a ticket to one of the Clooney-thrown Clinton parties is pretty exorbitant, but in Hollywood and D.C., it is just another swanky event. That appears to be exactly what Ryan took issue with. He wrote this:
Hillary Clinton is riding a huge wave of support from the liberal media and celebrities in Hollywood. Just the other day, I received an e-mail from George Clooney asking people to support Hillary … George Clooney isn't the only celebrity to endorse Hillary — virtually all of Hollywood is falling in line behind Hillary.
If what Ryan says is true and "virtually all of Hollywood" is supporting Clinton, all of his counter-emails may be a little too late, but only time will tell. We still have many months to go.
[image via screengrab]
For more from Lindsey, follow her on Twitter.
Have a tip we should know? tips@mediaite.com