BusTed: Cruz's Roommate Hilariously Implies the Senator Self-Stimulated in College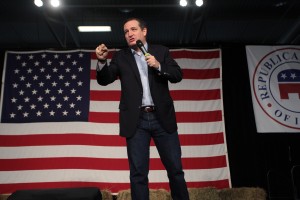 Screenwriter Craig Mazin has enjoyed a fair bit of attention with his hilarious Twitter feed detailing his years as Ted Cruz's roommate at Princeton. As the Texas Senator has become an increasingly likely candidate to earn his party's nomination for President, Mazin has made it his business to reveal the embarrassing and hilarious history from Cruz's past.
It all started back in 2012 during Ted Cruz's upstart Senate run. Just weeks before the November 6 contest in Texas, Mazin first wrote on Twitter:
My freshman year college roommate Ted Cruz is going to be elected Senator. In case I hadn't made it clear, he's also a huge asshole.

— Craig Mazin (@clmazin) October 26, 2012
As Cruz's career in the Senate continued to, Mazin would likewise Tweet out many things from his Princeton years that the blogosphere have eaten up with glee, detailing the sort of personality that the Texas Senator had while in school.
As a freshman, I would get into senior parties because I was Ted's roommate. OUT OF PITY. He was that widely loathed. It's his superpower.

— Craig Mazin (@clmazin) January 10, 2016
Second memory: Ted would talk about the women he thought he had a shot with. Pretty sure he remained untouched by a woman those four years.

— Craig Mazin (@clmazin) January 10, 2016
Ted would leave a greasy film on everything. My friend Erik dubbed the substance "Cruhz," rhymes with "scuzz." Now there's Cruhz on my TV.

— Craig Mazin (@clmazin) January 10, 2016
The substance of the Tweets from Craig Mazin are not relegated simply to Ted Cruz's lack of sex appeal on college (although that much is likely apparent judging from this unearthed undated video of the young master debater). In January Mazin outright (jokingly?) addressed smothering his roommate with a pillow:
Getting emails blaming me for not smothering Ted Cruz in his sleep in 1988. What kind of monster do you think I am? A really prescient one?

— Craig Mazin (@clmazin) January 15, 2016
And yesterday the newest installment of Mazin's documented journey continued with this admission:
Ted Cruz thinks people don't have a right to "stimulate their genitals." I was his college roommate. This would be a new belief of his.

— Craig Mazin (@clmazin) April 13, 2016
The issue "in hand" comes from a Wednesday piece from Mother Jones examining a specific case from Cruz's time working as Texas solicitor general. Cruz defended a law that would outlaw the sale of dildos and other sex toys, writing in his original brief, "There is no substantive-due-process right to stimulate one's genitals for non-medical purposes unrelated to procreation or outside of an interpersonal relationship."
Cruz also noted that there existed no, "right to promote dildos, vibrators, and other obscene devices," and that the government had a right to, "discourag[e]…autonomous sex." After the appeals court rejected the brief from Cruz's office, Cruz did not decide to take his anti-dildo stance to the Supreme Court, however, despite his overall 5-4 winning record arguing cases there.
Have a tip we should know? tips@mediaite.com