Buzzfeed Writer Attacks Web Comic Artist Who Made Rape Joke, Has Ass Handed To Him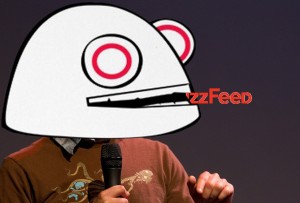 There isn't really a "good" guy in this story, but it does feature social media-age comeuppance worthy of Edgar Allen Poe, and internet drama worthy of Orville Redenbacher. Apparently, there's a hugely popular web comic called The Oatmeal, run by an artist named Matthew Inman, and he made a rape joke in one of his recent comics. Backlash ensued, and Inman snottily removed the offending panel, then snottily apologized, then wiped away all the snot. Then, Buzzfeed went to work on Inman like Ving Rhames on Zed Appreciation Day. That's where the fun starts.
Buzzfeed spent the first ten paragraphs taking Inman apart for his rape joke, and subsequent snotty response to the backlash. Here's a taste:
In this comic, Inman described the role of different keys on the keyboard. F5, he said, was the "rape victim" of the group. "I MUST VIOLATE YOU OVER AND OVER AND OVER AND OVER AGAIN!" a rapist blob monster said to the F5 key as it ran away crying.

His own fans quickly took him to task on The Oatmeal's Facebook page. "Really, in your awesomeness and creativity, you couldn't come up with something better than a rape 'joke'?" one asked. "I expected more from you."

At first Inman ignored the criticism, but by Tuesday, he felt enough heat to remove the panel with the rape joke. But he added a comment at the bottom complaining that comedians like himself are no longer allowed to say the word "rape." Defensively, Inman said he's previously "donated $1,000 of my own money to a battered women's group."

"To all those who complained: thank you for censoring me," he wrote. "It worked."

He had to walk that sneering response back, too, writing on Twitter that both the comic and the comment were "fucking stupid." He finally said he was sorry, then quit Twitter for the day. The comic is no longer listed on his website's homepage, though it remains accessible with the last panel removed.
Now, in Inman's defense… well, nothing, really. He handled it horribly, as he now readily admits, although also snottily. But Buzzfeed wasn't done with him by a damn sight, and spent the next 31 paragraphs spraying explosive diarrhea all over everything Inman had ever done. Now, I'm not going to cry large tears for Matt Inman, because aside from his rape joke, he cracks that printers are the "autistic stepchildren" of computers in the opening seconds of the video that Buzzfeed posted, so screw him (although I did, admittedly, laugh at the "How many 5 year-olds could you take in a fight?" premise). Even if Inman richly deserved it, though, the article was excessive, and as it turns out, horribly inaccurate.
Inman posted the original version of the Buzzfeed piece, along with his own thorough fisking of same, in annoying handwriting font. The degree to which Buzzfeed got the story wrong is evident by comparison with the current version, which contains a lengthy disclaimer now. That's not the funny part. The fact that the Buzzfeed writer's other main j'accuse toward Inman is click-whoring is also not the funny part. Well, that is a funny part.
No, the funny part is that the Buzzfeed writer who went all shock and awe on a guy for making one horrible joke on the internet is none other than Jack Stuef (shame on you if you looked ahead to the tags and spoiled it). Jack Stuef, Mediaite readers may recall, is the writer who was run out of Wonkette on a rail for posting a whole mess of jokes at the expense of Trig Palin, and special needs children in general, including one which speculated that Bristol Palin had been raped by her father:
Today is the day we come together to celebrate the snowbilly grifter's magical journey from Texas to Alaska to deliver to the America the great gentleman scholar Trig Palin. Is Palin his true mother? Or was Bristol? (And why is it that nobody questions who the father is? Because, either way, Todd definitely did it.)
Under pressure from advertisers, the post was removed, and Stuef delivered a snotty apology. A month later, Stuef was on his way out of Wonkette, and apparently on to Buzzfeed.
In his response, Inman gleefully pointed out the irony of a guy who made toxic jokes on the internet and snottily apologized for it going after a guy who made a toxic joke on the internet and snottily apologized for it, but for my money, they both got what they deserve. Instead of fighting, maybe they should go into click-whoring, rape-funnin', special needs-mocking business together. Let this serve as their resumé.
Have a tip we should know? [email protected]