California Rodeo Announcer's Racist Michelle Obama Joke Sparks Controversy (UPDATED)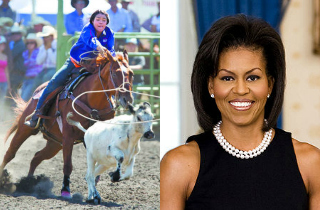 A racist joke about First Lady Michelle Obama made by a California rodeo announcer over the PA system on Saturday has sparked considerable controversy.
During the Creston Classic Rodeo in Creston, Ca., the announcer reportedly joked over the loudspeaker that "Playboy is offering Ann Romney $250,000 to pose in the magazine, and the White House is upset about it because National Geographic only offered Michelle Obama $50 to pose for them."
"I was really appalled and the people around me were really appalled," spectator Dona Wilson told the San Luis Obispo Tribune. "He was acting like we were buying into his bigotry and we weren't."
The newspaper asked for comment from the rodeo's board members. "I can't speak for the board, but I myself think that this is unacceptable behavior or conduct by the announcer," board member Mike Barrett said. "I find it offensive, and I think that it's conduct unbecoming the rodeo announcer."
Three board members told The Tribune the announcer was Ed Kutz of Arroyo Grande, but that fact has yet to be officially confirmed. Barrett called Kutz asking him to publicly apologize, but has yet to get a hold of him.
UPDATE: According to the San Luis Obispo Tribune, the offensive joke came not from the rodeo announcer but from… the rodeo clown named Mike Hayhurst. The Tribune writes:
Hayhurst has performed at the event for several years, but is an independent contractor and not officially affiliated with the rodeo, said Creston Classic Rodeo board member Mike Barrett. Speaking on behalf of the rodeo's nine-member board, Barrett said that the board is not responsible for the joke and will ask Hayhurst for a letter addressing the issue and a public apology. The board will discuss at its next meeting if it will fire Hayhurst, and will review scripts for future performances by any clown. "We probably won't be using his services in the future," Barrett said of the clown.
[h/t San Luis Obispo Tribune]
— —
>> Follow Andrew Kirell (@AndrewKirell) on Twitter
Have a tip we should know? [email protected]