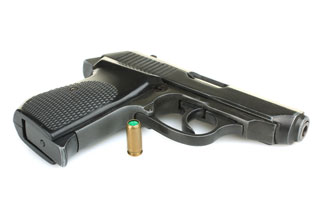 Last week, the D.C. news outlet Roll Call told the world about the Capitol Hill police force's embarrassing tendency to leave unattended guns in congressional bathrooms that are eventually found by child tourists in Speaker John Boehner's bathroom. In response, the Capitol Police are cracking down on staffers who told the press about the errant guns, which is obviously a bigger deal.
In a statement, USCP spokesperson Lt. Kimberly A. Schneider said in a statement that on the request of the Capitol Police, the Inspector General was investigating where the leaks originated. "Recent media reports regarding three cases of U.S. Capitol Police (USCP) officers improperly handling their Department issued weapons in the Capitol Complex, should not have been released to the public, as these are law enforcement sensitive, internal personnel matters currently under investigation," she said in the statement, obtained by Roll Call.
Oh, they're also investigating the part where people leave Glocks in bathrooms, unattended, so that's good:
Senate Sergeant-at-Arms Frank J. Larkin, the chairman of the Capitol Police Board, said the board would be informed of the results of the investigation.

"The United States Capitol Police Office of Professional Responsibility and the Inspector General are reviewing each of these incidents and will be reporting all findings and recommendations to the Capitol Police Board," Larkin said in a statement to CQ Roll Call Friday.
It happens to be the policy of Capitol Police to not comment on pending internal matters and investigations, which is good, except the public should probably be aware that their officers are rather careless. Let's remind ourselves how careless we're talking about:
A kid visiting the U.S. Capitol reportedly found a loaded Glock in @SpeakerBoehner's bathroom. http://t.co/dUDVk1SbIR pic.twitter.com/S5rBkNovEu

— David Gura (@davidgura) May 1, 2015
[Image via Shutterstock.com]
—
>> Follow Tina Nguyen (@Tina_Nguyen) on Twitter
Have a tip we should know? tips@mediaite.com