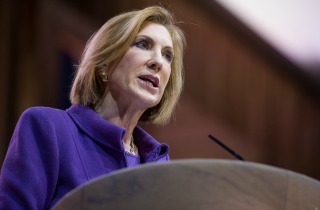 Former Hewlett-Packard CEO Carly Fiorina, who last week said there is a "higher than 90 percent chance" she will run for president, is going after Apple CEO Tim Cook for his vocal opposition to Indiana's Religious Freedom Restoration Act, calling him a hypocrite for not also ceasing operations in countries where gay people and women are not treated fairly.
Speaking to The Wall Street Journal, the likely 2016 Republican presidential contender said Cook is demonstrating "a level of hypocrisy here that really is unfortunate." Cook wrote in a Washington Post op-ed that the Indiana law and similar ones are "bad for business" and discriminatory.
"When Tim Cook is upset about all the places that he does business because of the way they treat gays and women, he needs to withdraw from 90 percent of the markets that he's in, including China and Saudi Arabia," she told The Wall Street Journal. "But I don't hear him being upset about that."
While critics have said the law opens the door to anti-LGBT discrimination, Fiorina told the WSJ that there was "nothing objectionable" about Indiana's law. The criticism was so overwhelming to Indiana lawmakers that Gov. Mike Pence (R) was forced to call for a "clarification" and "fix" to the law.
"I think this is a ginned-up controversy by people who play identity politics that has divided the nation in a way that is really unhelpful," Fiorina added. Interesting, in that same interview, Fiorina said, "I am running for this job because…" — immediately prompting an interjection of "if" from one of her aides.
Meanwhile, her fellow Republican Arnold Schwarzenegger wrote on Friday that the Indiana law is "distracting, divisive," bad for the country and for the Republican Party.
[Image via Shutterstock]
— —
>>Follow Andrew Desiderio (@forza_desiderio) on Twitter
Have a tip we should know? tips@mediaite.com