CBS Affiliate Reporter Decided It Was a Good Idea to Post This From Orlando Scene Today (Updated)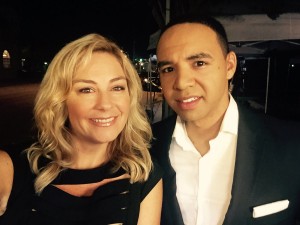 "Common sense is not so common."
-Voltaire
Exhibit A today is one reporter's decision to Tweet a selfie — a smiling one, mind you — from the scene of the deadliest shooting in this country's history: 50 dead and more than 50 injured.
@ErikSandoval We are all on the same team and all understand the gravity of this, but we are allowed to smile too. @EricYutzy @CBS12

— Suzanne Boyd (@SuzanneBoyd) June 13, 2016
Almost always from here we'll see the Tweet deleted, either because management steps in and demands it be taken down or a reporter like Suzanne Boyd applies common sense. But as of 9:00 AM EST this morning, said Tweet is still very much up on Boyd's feed as she continues to somehow defend it (new rule of thumb in 2016: When in doubt, double-down on stupid). And Boyd's employer, CBS-12 in Palm Beach, Florida, doesn't seem to have an issue with a smiling selfie from the scene, either.
Not much more to say here. The bar has been lowered so often courtesy of media members doing and/or saying patently puerile things on social media — a place where no editor or producer acting as a filter exists — that this kind of judgment is on display all too often and will be again… and again.
Common sense is not so common indeed…
>>Follow Joe Concha on Twitter @JoeConchaTV
Update – 1:00 PM EST: Ms. Boyd has deleted the selfie Tweet in question:
@kcolburn67 Thank you, Kelly. I took down the post. @Mediaite @JoeConchaTV

— Suzanne Boyd (@SuzanneBoyd) June 13, 2016
This is an opinion piece. The views expressed in this article are those of just the author.