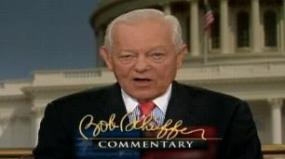 CBS Face the Nation anchor Bob Schieffer is a great journalist with a long, storied career.
But in the wake of his admission that he didn't mention the Black Panther story because he was "on vacation" and didn't know about it, he took to a commentary yesterday to scold "new media" for the Shirley Sherrod story.
The entire show actually took on the issue of race. There was a discussion of the Sherrod story, media and race and a panel about the Black Panther story that Schieffer did not ask Attorney General Eric Holder about a couple weeks ago (Newsbusters thought the panel wasn't balanced).
But Schieffer's commentary took on Andrew Breitbart and "new media." "I am Old Media with a capital O. Proud of it, actually," said Schieffer. "And yes, we do operate differently than some in the New Media and I again underline some."
One of those differences, said Schieffer, is that Old Media may make mistakes but not on purpose. Old Media "call[s] people involved in a story to get their side" while New Media, presumably, does not. And then Schieffer got the story wrong on the Shirley Sherrod timeline.
A partisan blogger with an agenda – not a journalist – put the heavily edited, totally out of context, now infamous sound bite of Shirley Sherrod on the Internet. Some of the cable folk picked up the story, and demanded the woman's ouster.

No calls to those involved, no checking of any kind – just throw it out there and leave it to the woman to defend herself.
Which 'cable folk' is he talking about that demanded the woman's ouster? Because the only person who did was Bill O'Reilly, and even that didn't air until after she already resigned. And if Schieffer had bothered to call those involved, before throwing it out there, he would know that O'Reilly's show contacted the USDA Monday afternoon and got no response.
This, from the anchor who admits he would have asked Holder about the Black Panther case if he knew about it, but he was on vacation (sounds nice, by the way!), and, you know, it really didn't get a lot of publicity. I wonder why. Maybe it's because the Old Media goes on vacation and sticks to their usual Old Media sources to prepare for an interview, while the New Media is busy covering, fair and comprehensive, the stories many others in America are curious about. "If you would just make a call every once in a while to check these things out before you put it on the web, you could save all of us a lot of trouble," said Schieffer.
We agree. The same goes for CBS News.
Here's Schieffer's commentary:


—–
» Follow Steve Krakauer on Twitter
Have a tip we should know? tips@mediaite.com