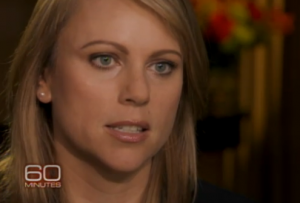 CBS News correspondent Lara Logan says she thought she was going to die that night in Tahrir Square. "For an extended period of time, they raped me with their hands," Logan tells The New York Times in her first public comments about the brutal attack. Logan tells the Times the attack lasted 40 minutes and involved 200 to 300 men. She will talk about it on 60 Minutes this Sunday.
In a preview of the 60 Minutes story, Logan tells CBS' Scott Pelley "I thought not only am I going to die, but it's going to be just a torturous death that's going to go on forever…"
Logan describes a day of celebration in Cairo that suddenly collapsed into terror. "There was a moment that everything went wrong," she said.
As the cameraman, Richard Butler, was swapping out a battery, Egyptian colleagues who were accompanying the camera crew heard men nearby talking about wanting to take Ms. Logan's pants off. She said: "Our local people with us said, 'We've gotta get out of here.' That was literally the moment the mob set on me."

"My clothes were torn to pieces," Ms. Logan said.

She declined to go into more detail about the assault but said: "What really struck me was how merciless they were. They really enjoyed my pain and suffering. It incited them to more violence."
Logan tells the Times after she reports on her assault Sunday, she will not speak about it again. "I don't want this to define me," she said.
Watch the preview here, from CBS News:
Have a tip we should know? tips@mediaite.com