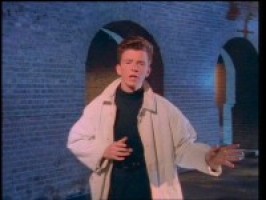 The Internet has been crackling with weird, random celebrity death rumors since last Thursday, when Farrah Fawcett and Michael Jackson died. Thursday night rumors of Jeff Goldblum's demise were greatly exaggerated via Twitter (trending topic!); the actual death on Sunday of TV pitchman Billy Mays seems to have added to the actual celebrity-death trend (begun earlier last week by Ed McMahon), and exacerbated the trend-watching hysteria online (really, Al Roker?) So far, these are the false celebrity death rumors that have circulated:
The Examiner told me to confirm with trusted sources, so I Google-Newsed it and found nothing. Then it said to check "reliable online sites like People magazine," and "if that fails," then places like the Huffington Post, TMZ and Perez Hilton. Okay! Perez said, "Rick Astley is NOT dead, Tweeple. Chillax!" So I'm chillaxing.
Update: Trust Perez! That iReport "story" has since been taken down.
Update to the Update: This is one of the smaller stories to come out of the Michael Jackson coverage, but it is actually sort of revealing, when juxtaposed with the Twitter/Iran and TMZ/Michael Jackson stories. It demonstrates just how fertile Twitter is for seeding misinformation (and disinformation), as well as how important brand credibility is for news sites. Something can call itself "iReport" and allow "citizen journalism" to be uploaded to its pages, but that doens't make it trustworthy or credible, and what do you know, turns out that matters. On the flip side, this has provided another opportunity for TMZ to demonstrate credibility (if TMZ says they're not dead, then they must not be dead!). The LAT explores TMZ's slide up the credibility scale here.
Have a tip we should know? tips@mediaite.com