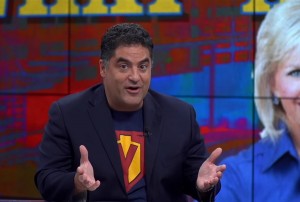 The news media world was rocked Wednesday with the news that now-former Fox News host Gretchen Carlson is suing Fox News Chairman & CEO Roger Ailes for workplace sexual harassment and retaliation, a lawsuit in which Carlson alleges Ailes offered her career advancement in exchange for a sexual relationship, among other allegations. According to Gretchen Carlson's law firm, at least ten other women have now come forward with similar claims against Ailes.
While the case is still in the very early stages, the fallout from this suit is already being projected, and with special glee in some quarters. The Young Turks host Cenk Uygur is in the latter category, and is predicting that Ailes' troubles with Carlson are just the tip of the iceberg.
"It's like Bill Cosby," Uygur said during Wednesday's TYT broadcast. "Everybody ignores it because the guy is too powerful but once the dam breaks, oh boy."
Uygur added that "The only way this doesn't drag him down is if he finds a way to pay her an insane amount of money to make this lawsuit go away immediately. But he's probably too arrogant to do it."
Cenk said that Ailes is "only hiring people that, in his fantasies, he'd like to sleep with, then asking them if they'd fulfill those fantasies. So this is as creepy a story as you can get."
The story alone, let alone the lawsuit, could bring Roger Ailes down, but the big question is what this ends up doing to Fox News' brand as a whole, a question that will have a whole lot to do with whether other Fox News talent shows solidarity with Carlson.
This is an opinion piece. The views expressed in this article are those of just the author.