Charlie Sheen Announces Tour Dates (Which Totally Deserves Your Attention Right Now)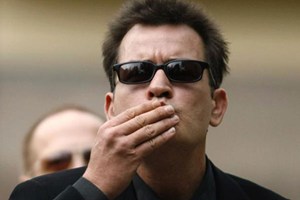 It appears that "live show" is the new go-to hobby for TV personalities who suddenly find themselves off the airwaves. Taking a page from the Conan O'Brien playbook, Charlie Sheen announced via Twitter that he will now be going on a live tour with a new show entitled "My Violent Torpedo of Truth/Defeat is Not an Option Show." I guess he couldn't choose which hiiiiiilarious title he liked more. For a similar tough choice, many people are having a hard time choosing which news outlet to use for coverage of the deadly earthquake in Japan that is affecting the entire world right now as you read this.
Here's the quote from his announcement Tweet: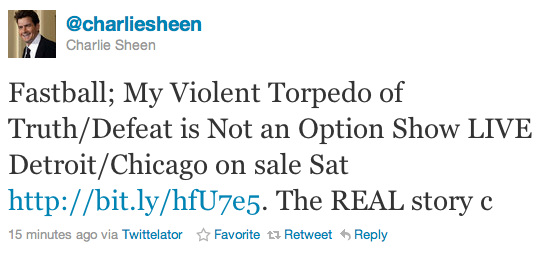 I guess he didn't get to finish his thought. Too bad. Well, he needed to use the room for his latest awesome catchphrase: "Fastball!" God, this guy is a master with words. Every quote he says is fascinating.
You know who also had a fascinating quote? The Kyodo News that reported that the resulting tsunami from the deadly Japanese earthquake was so bad that an entire passenger train is missing after a 33-foot wave hit outside of Nobiru Station. It's unknown how many people were aboard.
The link in Sheen's above tweet goes to this TicketMaster page which lists tour dates in Chicago and Detroit. It's not yet clear if Sheen will appear in any other locations.
It is also unclear how many countries have been affected once the final devastation of the earthquake and tsunami is surveyed. We do know that countries like Indonesia and Japan were hit hard and that the waves made it all the way to the western coasts of North and South America. While Hawaii seems to have avoided any major damage, the waves have made it all the way to the coasts of Oregon.
One of the locations Sheen will be appearing at is the Fox Theatre in Detroit which is a classic movie house from the 20s known for its large seating number. It seats more than 5,000 people which is a huge amount.
Of course, it's nothing compared to 88,000, which is the absolutely heartbreaking number of missing people that Kyodo News has reported. Yes, 88,000 people. Just missing. (UPDATE: That number may be incorrect)
It's actually unsurprising that Sheen has chosen to go on tour when you think about it. There's already a fairly large backlash growing against he and the media coverage he's receiving. He should strike now and get his money before people STOP PAYING ATTENTION. Because, Lord knows, any day now, people are going to CLICK AWAY and begin caring about ACTUAL NEWS.
Until then, though, you can buy all your Charlie Sheen tour tickets here.
Have a tip we should know? tips@mediaite.com