Charlie Sykes: It's 'Fundamentally Disturbing' That Trump Is Questioning Popular Vote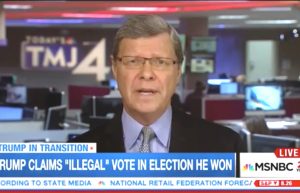 Conservative radio host Charlie Sykes said on MSNBC Monday afternoon that it was "fundamentally disturbing" for the president-elect to challenge the results of the election, especially in light of the fact that he won.
Donald Trump, apparently smarting from the fact that he lost the popular vote by 2.2 million, attempted to delegitimize that count by claiming, falsely, that millions of people voted illegally in Virginia, New Hampshire, and California — all states that Trump lost. This is a conspiracy theory that emerged on Twitter and there is no evidence to back it up.
"The President of the United States is essentially tweeting out fake news," Sykes said. He continued: "It's bad enough that he's tweeting it out, but there's something fundamentally disturbing about the President of the United States, who just won the election, going out of his way to delegitimize the process."
Sykes also had criticism for Jill Stein, who has raised funds for a campaign to recount the votes in swing states Wisconsin and Pennsylvania. The Clinton campaign has signed on to be a part of the effort.
"You have both sides right now: you have the bad losers and the bad winners. And the end result is going to delegitimize our democratic political process. Who actually is behaving in a grown up responsible way at this point in the election? I don't see anybody," he said.
Sykes is a conservative radio host who has been fiercely critical of Trump and the right-wing media apparatus that ennobled his rise.
Have a tip we should know? tips@mediaite.com