Checkbook Journalism? National Enquirer Editor Challenged Over Tiger Woods Report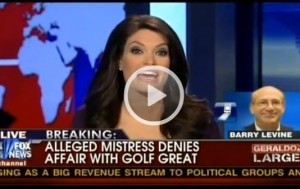 Cable News has been fairly obsessed with the Tiger Woods story since it broke on Friday, and last night was no exception. Subbing for Geraldo Rivera last night, Kim Guilfoyle interviewed Barry Levine, Executive Editor of the National Enquirer. The notorious tabloid is now at the center of the Tiger Woods scandal for its exclusive report of the "other woman" Rachel Uchitel as the reason behind the Woods' car accident. Guilfoyle challenged Levine for paying for their exclusive source, and Levine admitted that Uchitel's story has changed since its first report.
Levine was a guest on Geraldo At Large since his publication has exclusively reported on the woman accused to have been having an affair with the world famous golfer — a story that has been reported by TMZ as well.
Guifoyle: So, you stand by your sources because she has accused you essentialnof checkbook journalism, that paid your sources $25,000 to contribute to the story. Whether you paid or not, Isn't what matters whether or not it is true?

Levine: The bottom line is we pay, you know, the National Enquirer we pay exclusive information that we can verify and check out. This is a story that took us several weeks, took us halfway around the world. We had reporters in Australia, we followed this woman from New York to Australia for her last meeting with Tiger Woods. There are multiple sources, some of which are used in the current story, polygraphs were administered to several of the sources, all of the sources passed with flying colors. I can point out, there is an exclusive on the record interview with one of Rachel's friends who is named in the article. Obviously Rachel has gone into a damage control mode certainly it has been ramped up because the accident. I can certainly see from where I hear this is a woman who is scared who has been caught up in a scandal now of global proportion and in the past 24 hours she has given several interviews to media outlets. However, there have been several contradictions and outright lies that she as told.
Have a tip we should know? tips@mediaite.com