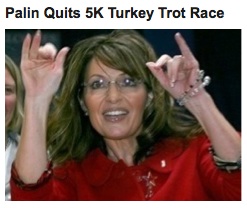 Sarah Palin makes very clear how she feels that the media treats her unfairly — and many on the left remain skeptical of her claims. But every now and again there is a clear example that support's the former Alaskan Governor's view. Case in point: Huffington Post's headline "Sarah Palin Quits Turkey Trot 5K Race In Kennewick, Washington," which isn't exactly true. Gotcha!
While its true that Palin had announced via Facebook and Twitter her plans to run in the Turkey Trot, she decided to not run because she was overwhelmed by fans and well-wishers eager to meet the best-selling author of Going Rogue. But the headline implies that Palin started the race and quit, drawing a clear analogy to her unfinished term in office as Alaskan Governor – a role she did in fact quit to pursue other interests.
The Huffington Post reports:
Sarah Palin dropped out of a 5k race on Thanksgiving Day in Kennewick, Wash. The former vice presidential candidate and Alaska Governor quit the race because she wanted to avoid the crowds that were waiting for her at the end, according to The Tri-Cities Herald.

Palin was 1 of about 3,000 participants. The paper reported that her presence drew a "mass of onlookers." Palin announced that she would be running the race on Twitter.

The former Republican vice-presidential candidate visited nearby Richland, Wash., to spend the holiday with relatives. She said it's good to be back in the Tri-Cities to reconnect with "the roots." Her grandparents, Clem and Helen Sheeran, came to Richland in 1943.
Have a tip we should know? tips@mediaite.com