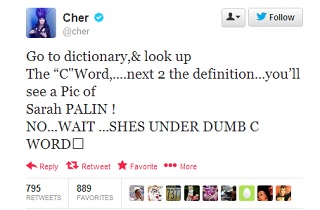 When did MSNBC's Martin Bashir lap pop legend Cher in cultural relevancy? Last Friday, apparently. As Bashir's scathing, scatological commentary about former Governor Sarah Palin resulted in immediate controversy, and an apology, Cher called Palin a "dumb C word" on Twitter, and it took four days for Breitbart.com offshoot Truthrevolt to notice. Even Twitter-monitoring Michelle Malkin site Twitchy only managed a brontosaurus-like reaction time of three days. Palin fan hub Conservatives4Palin hasn't even noticed yet.
To be clear, Cher didn't call Sarah Palin a "cunt," she literally tweeted the euphemistic form of the word, which is odd for this sort of provocation:
Go to dictionary,& look up The "C"Word,….next 2 the definition…you'll see a Pic of Sarah PALIN ! NO…WAIT …SHES UNDER DUMB C WORD(random square)
She followed up with a potential condemnation from beyond the grave:
Am here ready to get foot fixed ! If I die ….. DOUBLE MY LAST TWT (random square) & Throw in the T -JIHADISTS LOVIN MY CREW (3 random squares)
Apparently, Cher was about to undergo surgery for a lingering foot injury:
The "Believe" hitmaker, 67, recently took to her Twitter.com blog to tell fans that she suffered a compound fracture in the late 1990s when a piece of equipment fell off the wall of her rehearsal studio and "crushed" her foot.
Cher admits she suffers every time she slips into high heels as a result of the incident, and now she is set to sort out the issue once and for all.
Wonkette's Rebecca Schoenkopf points out, there's something less-than-genuine about the sort of outrage that attends incidents like these, but there are multiple other irritating things about this story, like, for example, if you're going to call someone a c-word, you should use the actual c-word. What do you even do with a tweet like this? Say that it's O-word-rageous? How does Cher retain almost 2 million followers while slipping in and out OF ALL CAPS? And what are all those random squares in her tweets?
Despite her inability to match Martin Bashir in outrage-generation (she sent her tweets hours before Bashir's commentary), Cher does have something in common with the MSNBC host. His suggestion that Palin deserves to undergo barbaric punishment is getting all of the attention, but that unworthy provocation was at least made in service to amplifying a worthy point. Bashir's ad hominem attacks on Palin as "America's resident dunce" with a "long-deceased mind," though, were empty of thought, as was Cher's out-of-the-blue, if weirdly de-fanged, attack.
Have a tip we should know? tips@mediaite.com