WH Advisor: POTUS Skipping Gettysburg Address Due to 'This Whole Website Thing'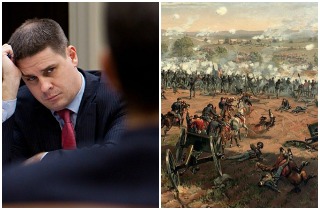 Tuesday marks the 150th anniversary of President Abraham Lincoln delivering what has come to be referred to as the Gettysburg Address. President Barack Obama will not, however, be observing this anniversary. Instead, the president will be speaking with Wall Street executives at a CEO summit.

When pressed by National Journal editorial director Ron Fournier about why the president did not feel the need to mark this solemn occasion, the president's senior advisor for strategy and communications, Dan Pfeiffer, snapped at him that the ACA's implementation failures and the future viability of the Democratic Party had taken precedence.
"Why not honor Gettysburg with a presidential visit?" Fournier asked Pfeiffer on Twitter.
"I think it would be seen as perfectly appropriate for a sitting prez to mark the anniv," New York Times reporter Jonathan Martin said, adding his thoughts to the conversation on Twitter.
"It didn't work schedule-wise," Pfeiffer replied somewhat tersely but nevertheless genuinely.
Fournier did not accept that response and probed Pfeiffer about the White House's logic behind failing to observe the sesquicentennial of this formative American moment. "Serious question," he queried. "What is on his schedule that is more important than Gettysburg anniversary?"
"Oh, I don't know," Pfeiffer shot back, "there's this whole website thing that someone suggested might destroy the Dem Party."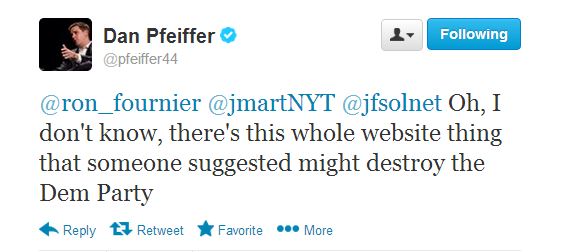 Fournier was not happy. "I would make a joke about POTUS writing code but Gettysburg is not a laughing matter," he replied. "You mock, tho. Tnx."
Nearly 50,000 Americans died in the three-day battle that marked the Confederate invasion of Pennsylvania. This battle is often regarded as a turning point in the Civil War and Lincoln's 2 minute address as a foundational moment in American history.
[Photo via Wikipedia/Pete Souza/The White House]
— —
> >Follow Noah Rothman (@NoahCRothman) on Twitter
Have a tip we should know? tips@mediaite.com