Chinese Dissident Contradicts Hillary Clinton's Account of His Escape from China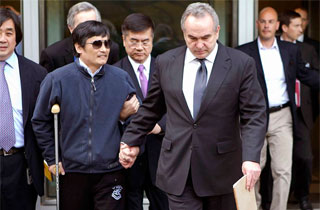 A book by Chen Guangcheng, the blind Chinese dissident who escaped from house arrest and managed to leave China with the help of the U.S., directly contradicts Hillary Clinton's account in which she credits her actions for facilitating his escape.
Chen, a human rights lawyer who went blind as a child, recently published his memoir about his life, including his work on behalf of the victims of China's one-child policy that got him imprisoned for four years, then placed under house arrest by the Chinese government. In 2012, Chen managed to escape his heavily guarded house by foot, was chased down by the Chinese government in a manhunt that involved a car chase, broke his ankle during his escape, and still managed to seek asylum at the U.S. embassy in Beijing.
In her own memoir Hard Choices, Clinton recounted Chen's case as a highlight of her career as Secretary of State, casting it as "responsibility to make sure our country remains the beacon for dissidents and dreamers all over the world."
Chen, however, remembers a State Department that had very little to do with his case, and accused them of nearly caving into the Chinese government's demands thanks to a summit Clinton was scheduled to attend. Via The Wall Street Journal's review of the book:
Once in talks with their Chinese counterparts, though, U.S. officials, fearful of spoiling the bilateral mood before a high-level summit set for the following week, buckled. According to Mr. Chen, within two days they began pressuring him to leave the embassy and accept assurances of his safety from the same Chinese government that had detained, tortured and otherwise brutalized him for seven years. "Negotiating with a government run by hooligans," he writes, "the country that most consistently advocated for democracy, freedom, and universal human rights had simply given in."
Instead, Chen credited the work of numerous American politicians who were not Hillary Clinton such as Chris Smith, Nancy Pelosi, who "proved to be principled and fearless friends of the Chinese people."
The Barefoot Lawyer: A Blind Man's Fight for Justice and Freedom in China is currently available in bookstores and online.
[Wall Street Journal]
[Image via U.S. State Department]
— —
>> Follow Tina Nguyen (@Tina_Nguyen) on Twitter
Have a tip we should know? tips@mediaite.com