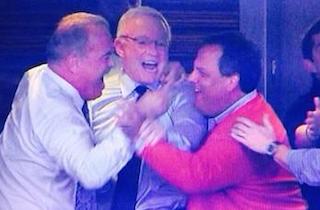 New Jersey Governor Chris Christie has become something of a regular spectacle at Dallas Cowboys games, hugging owner Jerry Jones as his favorite childhood team completes comeback victories.
But with the games come questions about ethics guidelines. According to the Wall Street Journal, Christie's tickets, transportation, and upscale suites were paid for by Jones, who also co-owns Legends Hospitality, which is set to run an observation deck on the 104th floor of One World Trade Center. The deck, which Jones & co. got after a competitive bidding process, is expected to reap almost $1 billion over the next decade and a half.
The new skyscraper is run by the Port Authority, overseen by Christie and New York Governor Andrew Cuomo.
RELATED: Fox's Cavuto and Guest Agree: Christie's Cowboys Victory Hug Unpresidential
New Jersey law bars officials from accepting gifts from parties with whom they or the state do business. Christie's office said a provision allows the acceptance of gifts from families and personal friends, making Christie's buddy-buddy relationship with Jones awfully convenient. Per the International Business Times, Christie advocated for Legends during the bidding process in 2013.
Legends, which is co-owned by the New York Yankees, denies any impropriety, as does Christie's office. "To try and tie one to the other is silly," Randy Levine, Yankees president and board member, told the WSJ.
Port Authority is a recurring problem for Christie. The agency was the chief instrument of Bridgegate, in which the governor's office used its authority to shut down lanes of the George Washington Bridge, allegedly in revenge against a local mayor who hadn't supported Christie's reelection.
[h/t Wall Street Journal / International Business Times]
[Image via screengrab]
——
>> Follow Evan McMurry (@evanmcmurry) on Twitter
Have a tip we should know? tips@mediaite.com