Chris Matthews: '300 Plus' Chris Christie's Weight Is 'Something He's Just Gotta Deal With'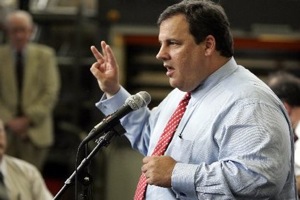 The heavy political issue of New Jersey governor Chris Christie's weight just can't seem to quarantine itself outside of the political sphere– not that it is ever Christie's doing that this is so. This time, it's Chris Matthews who has some qualms about Christie's presidential prospects because you can't "cut the budget [without] starting with supper."
The comments this time weren't on Hardball, but at a local D.C. event on Thursday– the Q&A Cafe at the Georgetown Ritz-Carlton. The Washington Examiner reports that his comments were part of a conversation on 2012 presidential prospects, in which he found Christie's presidential prospects were compromised by his weight:
"Chris Christie is moon over New Jersey, he should not wear white shirts, I tell you that… I saw him the other day and I was amazed by it, he must be 300 plus, and that's something he's just gotta deal with because you're not going to say, 'I'm going to cut the budget,' well, how about starting with supper?"
He took a similar stance against Mississippi governor Haley Barbour ("he weighs too much"), but didn't quite rub the issue in as much on that one. Nor were his prospects for Sarah Palin or Mike Huckabee so good, though he did argue that a candidate like Jeb Bush could be the GOP's best bet in 2012.
The Christie comments are sure to stir up many on the right who view the New Jersey governor as the uncompromised new hope for the Republican Party, and who have called this type of attack/assessment particularly baseless and egregious. Not that this is the first time Gov. Christie has had to endure this type of scrutiny (and it probably won't be the last)– it became one of the central issues in his 2009 campaign after former governor Jon Corzine released an ad accusing him of "throwing his weight around" as U.S. Attorney.
[h/t]
Have a tip we should know? tips@mediaite.com