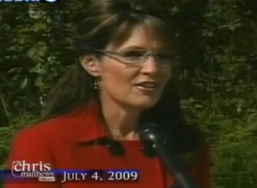 Before you jump to panicked conclusions, Matthews was not comparing Sarah Palin to President Nixon. He was comparing her to former Vice President, defeated presidential candidate Richard Nixon who spent the intervening years between losing to John F. Kennedy in 1960 and his 1968 campaign relentlessly touring the world, denying his presidential ambitions, all the while quietly (and ingeniously) setting the stage for a presidential run.
This latest comparison from Matthews, who is always a sucker for a good historical analogy, came as he attempted to put into context the 12 months Palin has spent since resigning ("she quit!") from office. In hindsight it's hard to argue it was a bad decision on her part.
If she's not interested in mainstream politics, why does a person of the right, which she is, carefully select mainstream candidates when she knows there going to win…because she wants a connection.
Responded panel guest Dan Rather:
"She's not running now for president but I wouldn't underestimate her…She's played an almost perfect hand. If she wants to stay a power in the party, make a lot of money and not run, she can do that. I wouldn't underestimate her for 2012, even for a second. If she decides to run it'd be hard to be against her."
"Hard" might be overstating matters slightly since if Palin actually were to throw her hat in the 2012 ring presumably she'd have to interact with the press outside of her Facebook, nonetheless, interesting that Rather thinks her such a strong candidate. In fact it was Rather's remarks that prompted Matthews to ask whether Palin is a Nixon. The panel consensus, meanwhile, was no. Watch below.
Have a tip we should know? tips@mediaite.com