Chris Wallace And Mike Gallagher Can Satisfy Women, Insist Chris Wallace And Mike Gallagher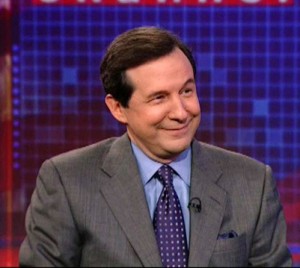 "This has not been our most interesting exchange," FOX News Sunday anchor Chris Wallace told Mike Gallagher on Gallagher's radio show, moments before they had one of their most interesting exchanges ever. It started when Mike asked when Chris' "lovely" wife Lorraine Wallace was going to visit his show to promote her upcoming book. But, somehow, this innocent query led to an unfortunate discussion over which of the two men can better satisfy his wife. Awkward.
Gallagher sort of initiated the conversation, when he said of Mrs. Wallace, "This woman is a saint for putting up with you. I gotta find out what the secret is." From there, things got weird:
WALLACE: Well, maybe the secret is I know how to satisfy a woman. Has that ever occurred to you? [Ed. note: Hope not.]

GALLAGHER: Oh that's great. What is wrong with you? Why did you go there? Holy cow!

WALLACE: Why?! Maybe that's why it is.

GALLAGHER: You don't think I know how to satisfy a woman? Denise has never complained!

WALLACE: I think you watch yourself on TV because you're lonely. If I had my own pad and was a bachelor in New York, I wouldn't be lonely. It'd be party night!
Um… okay? Then, when they eventually came down from their high (or up from their low?), the two reflected upon what they had done:
WALLACE: Why did we do this?

GALLAGHER: We're like toddlers.
Well, not like any toddlers we know, but we get the point. Cringe at the audio clip below. (h/t Media Matters)
Have a tip we should know? tips@mediaite.com