Christian Radio Host Charged With Assault After Busting into Ladies' Bathroom to Slap a Woman's Butt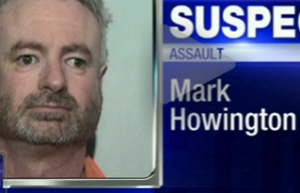 There isn't a commandment in the Bible about not smacking strangers' butts, but I feel like it has to be implied in there somewhere. A Christian radio host in Ohio has been charged with assault for doing just that.
Toledo's newspaper, The Blade, broke the story and reported that Mark Howington was in the women's bathroom at a Target store around 5:00 last Thursday afternoon. A woman pushed the door to the bathroom in only to have Howington yank it from the other side and then slap her butt "really hard" as she passed him. As she went to look for security, Howington left the store.
In the parking lot, she saw him trying to pry open a car door, gave chase, and cornered him in another store. When police got there, he had a hand in his pocket and in that pocket, he had a screwdriver. They slapped a charge for concealing a weapon on him for that, too, then hit him with an obstruction charge when he wouldn't give his name.
13 ABC interviewed the victim, who they identified as Debra Piechowski:
13 ABC also provided an interesting detail: there was Vaseline in Howington's sock.
As for his job as the co-host of a daily Christian morning show, Howington has been placed on leave by his superiors, who say they are concerned for Piechowski and her family as well as Howington and his. The site for Proclaim FM, which is currently promoting a talk from Tim Tebow to be held in Toledo, still lists his name on the morning show roster, but his bio can no longer be found on the staff page.
What is it with Christian radio hosts, huh?
[image via screengrab]
For more from Lindsey, follow her on Twitter.
Have a tip we should know? tips@mediaite.com